Five Guidelines for Choosing Good Books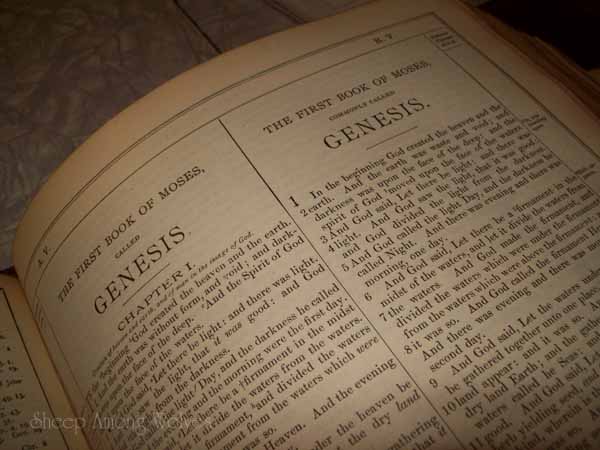 When my children were little we watched a video at a friend's house while visiting.  The video was very funny, very entertaining—both for the children and the adults.  However, looking back on the experience, we realized that 90% of the video was focussed on bad behavior.  Only the end, the moral of the story, gave a little wrap-up to show us what would have been pleasing to God.  When we went home it was the silly little songs, reinforcing the wrong choice, that danced around in the minds of my children.
In making choices of good literature, we want to avoid the same mistake from happening.  As I read through books to evaluate them for my children, I am constantly looking for certain traits to be present.  Here is a list of some of those characteristics.
1.  Good literature should be in agreement with God's word.
Matthew 4:4  But he answered and said, It is written, Man shall not live by bread alone, but by every word that proceedeth out of the mouth of God.
Psalm 119:105  Thy word is a lamp unto my feet, and a light unto my path.
Hebrews 4:12  For the word of God is quick, and powerful, and sharper than any two edged sword, piercing even to the dividing asunder of soul and spirit, and of the joints and marrow, and is a discerner of the thoughts and intents of the heart.
John 17:17  Sanctify them through thy truth: thy word is truth.
Luke 11:28  But he said, Yea, rather, blessed are they that hear the word of God and keep it.
2 Timothy 2:15  Study to shew thyself approved unto God, a workman that needeth not to be ashamed, rightly dividing the word of truth.
2 Timothy 3:16-17  All scripture is given by inspiration of God, and is profitable for doctrine, for reproof, for correction, for instruction in righteousness:  That the man of God may be perfect, thoroughly furnished unto all good works.
Good literature should turn our hearts toward God.
1 Kings 8:58  That he may incline our hearts unto him, to walk in all his ways, and to keep his commandments, and his statutes, and his judgments, which he commanded our fathers.
Joshua 24:23  Now therefore put away, said he, the strange gods which are among you, and incline your heart unto the LORD God of Israel.
Psalm 119:36  Incline my heart unto thy testimonies, and not to covetousness.
1 Samuel 16:7  But the LORD said unto Samuel, Look not on his countenance, or on the height of his stature; because I have refused him: for the LORD seeth not as man seeth; for man looketh on the outward appearance, but the LORD looketh on the heart.
Luke 16:15  And he said unto them, Ye are they which justify yourselves before men; but God knoweth your hearts: for that which is highly esteemed among men is abomination in the sight of God.
Good literature should bring conviction of sin.
John 16:8  And when he is come, he will reprove the world of sin, and of righteousness, and of judgment:
Acts 2:37-38  Now when they heard this, they were pierced to the heart, and said to Peter and the rest of the apostles, "Brethren, what shall we do?"  Peter said to them, "Repent, and each of you be baptized in the name of Jesus Christ for the forgiveness of your sins; and you will receive the gift of the Holy Spirit.
Isaiah 6:5  Then said I, Woe is me! for I am undone; because I am a man of unclean lips, and I dwell in the midst of a people of unclean lips: for mine eyes have seen the King, the LORD of hosts.
Luke 5:8  When Simon Peter saw it, he fell down at Jesus' knees, saying, Depart from me; for I am a sinful man, O Lord.
Psalm 51:4  Against thee, thee only, have I sinned, and done this evil in thy sight: that thou mightest be justified when thou speakest, and be clear when thou judgest.
Acts 17:30  And the times of this ignorance God winked at; but now commandeth all men everywhere to repent:
4.  Good literature should demonstrate that choices bring consequences.
Matthew 7:13  Enter ye in at the strait gate: for wide is the gate, and broad is the way, that leadeth to destruction, and many there be which go in there at:
Proverbs 14:12  There is a way which seemeth right unto a man, but the end thereof are the ways of death
Galatians 6:7  Be not deceived; God is not mocked: for whatsoever a man soweth, that shall he also reap.
Ezekiel 18:20  The soul that sinneth, it shall die. The son shall not bear the iniquity of the father, neither shall the father bear the iniquity of the son: the righteousness of the righteous shall be upon him, and the wickedness of the wicked shall be upon him.
Matthew 16:27  For the Son of man shall come in the glory of his Father with his angels; and then he shall reward every man according to his works.
Romans 2:6  Who will render to every man according to his deeds:
Good literature should be innocent with regards to evil.
Matthew 10:16 Behold, I send you forth as sheep in the midst of wolves: be ye therefore wise as serpents, and harmless as doves.
Romans 16:19 For your obedience is come abroad unto all men. I am glad therefore on your behalf: but yet I would have you wise unto that which is good, and simple concerning evil.
1 Corinthians 14:20 Brethren, be not children in understanding: howbeit in malice be ye children, but in understanding be men.
Jeremiah 4:22 For my people is foolish, they have not known me; they are sottish children, and they have none understanding: they are wise to do evil, but to do good they have no knowledge.
Ephesians 4:14 That we henceforth be no more children, tossed to and fro, and carried about with every wind of doctrine, by the sleight of men, and cunning craftiness, whereby they lie in wait to deceive;
2 Corinthians 11:3 But I fear, lest by any means, as the serpent beguiled Eve through his subtlety, so your minds should be corrupted from the simplicity that is in Christ.
Ephesians 6:11 Put on the whole armour of God, that ye may be able to stand against the wiles of the devil.
We would love to hear what guidelines you follow to choose literature for your family.