Word of the Week Lesson #28 – TRIBUTE
SAW Publishing's Word of the Week (WOW) program is a vocabulary supplement built around hymns and Bible verses.  Each lesson contains a Webster's 1828 Dictionary definition, Scripture reference, and examples that encourage students to use new vocabulary in daily life.  To find out more about the program, see our post entitled Boost Your Student's Vocabulary with our FREE Word of the Week. To receive the FREE Word of the Week lesson the Monday before it is posted, sign up for the WOW email below.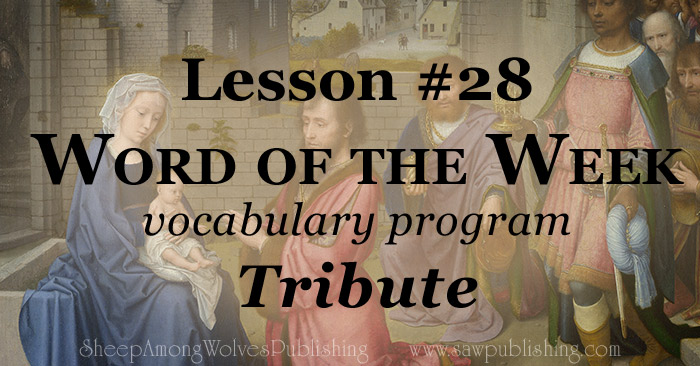 Word of the Week Lesson #28
**Click here for a downloadable PDF of the full lesson.
tribute
Short Definition
Abridged from Webster's 1828 Dictionary
TRIB'UTE, noun
a sum of money or other valuable thing, paid by one prince or nation to another; a personal contribution
Webster's 1828 Full Definition
TRIB'UTE, noun
[Fr. tribut; L. tributum, from tribuo, to give, bestow or divide.]
1. An annual or stated sum of money or other valuable thing, paid by one prince or nation to another, either as an acknowledgement of submission, or as the price of peace and protection, or by virtue of some treaty.
The Romans made all their conquered countries pay tribute.
2. A personal contribution; as a tribute of respect.
3. Something given or contributed.
All definitions are taken from the Webster's 1828 Dictionary from Archive.org Volume 1 and Volume 2 and can also be found on Webster's 1828 Dictionary online
Memory Verse
"Render therefore to all their dues: tribute to whom tribute is due; custom to whom custom; fear to whom fear; honour to whom honour."  ~ Romans 13:7 (KJV)
All scripture references are taken from the King James Bible
Hymn
"To Thee, my heart, eternal King,
Would now its thankful tribute bring;
To Thee its humble homage raise
In songs of ardent, grateful, praise."
 – Exeter Collection, To Thee, My Heart, Eternal King 
All hymn texts are taken from Cyber Hymnal
Examples From Daily Life
A few minutes later, Miss Piper was back, with a stiff white object wrapped in clear plastic.
"What is that?" Robyn asked curiously.
"This, my dear, is a tribute to modern science," said Miss Piper, unwrapping the plastic and pulling out what looked like a flat sponge.  "It is a chemical cleaning pad.  It removes pencil, crayon, marker, and stains of all kinds." She flipped the label over, and began reading.  "It can be safely used on glass, tile, metal and wood.  You just dampen one corner, and rub it over the effected area.  Successful results are guaranteed."
"That is a tribute to the manufacturer's confidence," Philip observed.  "They wouldn't guarantee the results unless they were pretty sure it worked."
"I'll get you some water," Robyn offered, running for a cup.
Miss Piper dipped the corner of the pad into the water, and then squeezed it out carefully.  "Here Robyn, give it a try."
"It's working!" Robyn exclaimed with delight.  Sure enough, the grey marks—and the green marks—were melting away.  "I think that is a tribute to the manufacturer, Philip.  Because the most convincing tribute is when the product actually works!"
Printable Image with Short Definition and Memory Verse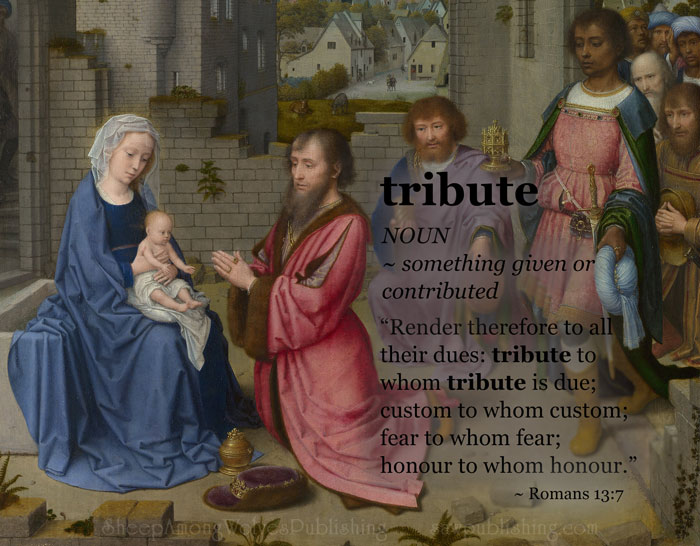 Bonus Activity
Do you understand the meaning of today's memory verse?  Read Luke 20:20-26, which covers the same topic.  Discuss some ways that we can render tribute to those in authority on earth, and some ways that we can render tribute to God as well.
Answer To Last Week's Bonus Activity 
wrought – rot
taught – tot; taut
naught – not; knot
caught – cot
Note to parents: Regional dialects might affect students' pronunciation.
How To Sign Up
Each week's WOW lesson will be available on the Sheep Among Wolves blog on Friday morning.
If you would prefer to receive the lessons by email, you can sign up below to have each new lesson delivered on the Monday before it's posted.  This gives you time to print out the sheet, and have it ready for the next week, as well as making sure you don't miss any posts.  Email signup will include a high resolution copy of the image for those who wish to print it out in poster form.  Concerned that you have missed the start of our program?  Don't worry, all emails contain links to previous lessons.  No matter when you sign up, you will receive access to all lessons from the Word of the Week program.