Where to Get a 10,700 Page Hymnal for FREE!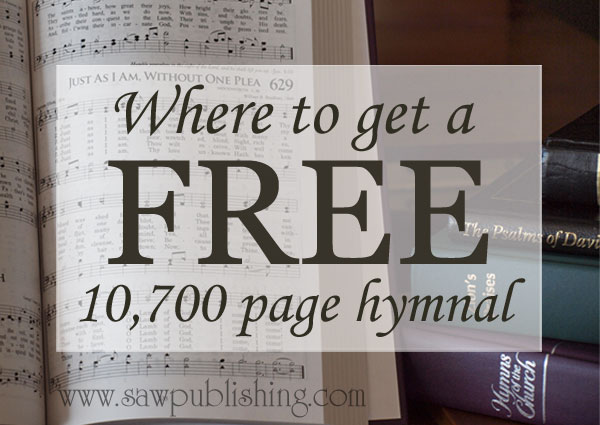 Have you ever wished that you could find a hymnal which contained all the hymns you love?  Personally, I use two hymn books and two more psalm books, and am still continually finding more great hymns I wish had been included.
How often have you visited a friend's house, or another church group, or read a book which included a few verses of a hymn you had never heard before, and wished you could find again?  But where do you begin looking for hymns?  You can't own all the hymnals in existence, and it would be excessively awkward to use them if you did.
A few years ago my family came across a fabulous resource for finding hymns—and for using them once you have found them.  The Cyber Hymnal, is an amazing collection of approximately 10,700 hymns and gospel songs as well as sheet music, recordings, and more.
Complete Hymns
When you find a really outstanding hymn, one which is both good and great, it often has one fault.  It's too short!  My hymnal contains six verses of For All the Saints and I would still be happy to sing more!  The delightful part about that particular hymn is that the author wrote no less than eleven verses, all of which are available in the Cyber Hymnal.
Even if you choose to print only a selection of verses, it is nice to be able to see the whole hymn, and have the option of taking as much or as little as you like.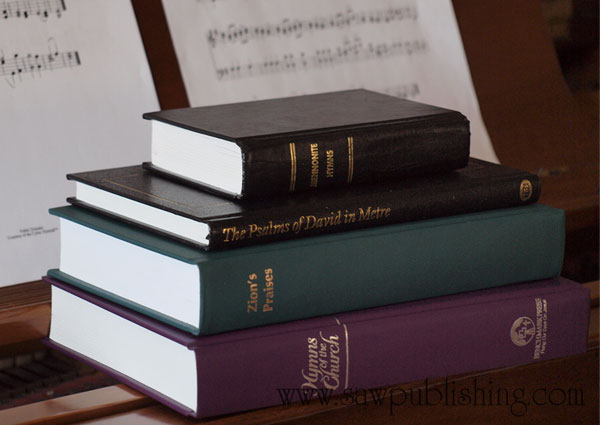 Ready-to-Print Tunes
The one disadvantage to singing eleven verses is that you can't really print them the way most hymnals do, with the verses sandwiched between the music lines.  Eleven verses would make quite a big gap between the two clefts!
The Cyber Hymnal presents all of their hymns as separate pages from their tunes.  The upside of this is that you easily sing as many verses as you like, and where there is more than one tune to a given song, you can choose whichever version you prefer.  On each hymn page, there is a link to the standard tune, as well as to any alternate ones.  Cyber Hymnal also provides a list of tunes by name, with links to hymns that can be sung to them.
The unfortunate part of having the tunes separate from the words, is that it can be difficult to sing while reading/playing the music at the same time.  Still, this obstacle is not insurmountable.
Free Recordings
Another fun feature of the Cyber Hymnal is that it includes an audio file for each of the tunes it offers.  Click on the musical note symbol next to the tune name on the hymn page to download and play in Windows Media Player.
One thing to note: once you have downloaded it, the tune is saved in your computer.  I didn't realize this the first few times, and ended up with multiple copies of the same tune, since I was actually downloading it every time I played it.
Author Biographies
In addition to hymns and tunes, the Cyber Hymnal offers biographical sketches to provide information about the writers and composers of the material they present.  On each hymn page, any anecdotes related to the specific hymn are included above the verses, while you can click on the writer or composer's name to go to their biography.  The biographical sketches also include a list of the author's works, which are in turn linked back to the appropriate hymn pages.
A Few Search Tips
The Cyber Hymnal Search Engine is run through Google.  If you search a term, a new window will open, displaying a Google search results page.  The first several times this happened, I closed the window, thinking that an error had occurred, and the engine was searching the entire web (which is also an option).
In fact, although the results appear to be an ordinary Google search, the only pages which come up are those from Cyber Hymnal.
The Alphabetical Lists do not include a, an or the.  Hence, if you are looking for The Lord's My Shepherd you will need to look under L not T.  I have several times scrolled down the T's in search of a very well-known hymn, and been astonished at its absence until I remember that I am forgetting to leave out "the."
Things To Note
The Cyber Hymnal contains a wide variety of hymns.  Sheep Among Wolves Publishing is not endorsing all of the hymns this site contains.  Rather, we are reviewing the resource so that readers can have access to the good material it does contain,  while using it at their own discretion.
Biographical Sketches, Anecdotes and Images are for the most part inoffensive and educational.  However, there is the occasional piece of content which might be inappropriate for certain audiences.  Once again, this is a great resource, but like all resources, it requires discerning use.
Cyber Hymnal is not www.cyberhymnal.org.  These are two different websites, which can be a bit confusing; www.cyberhymnal.org is the home of NetHymnal.  I only discovered this resource recently, so I can't offer an opinion on it. The website of the Cyber Hymnal reviewed in this post is www.hymntime.com.  Once you are on the homepage of either site the difference is clearly marked.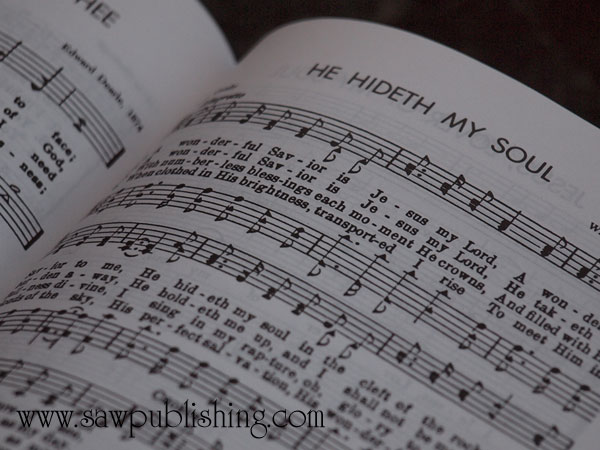 Take Advantage of this Great Resource
If you are looking for a particular hymn, or a hymn by a particular author, or a hymn on a specific Bible passage … or topic … or tune … or meter … or language … as long as it's in the public domain, you have a pretty good chance of finding it on the Cyber Hymnal.
And note, that public domain doesn't mean it has to be old.  There are hymn writers of the current day who have chosen to make their works available to anyone by voluntarily placing them in the public domain during their lifetime.
The Cyber Hymnal, is a great resource for finding, learning, printing, or just enjoying some of the great—and good—hymns that have been written by Christians through the centuries.