Spotlight on Lamplighter Publishing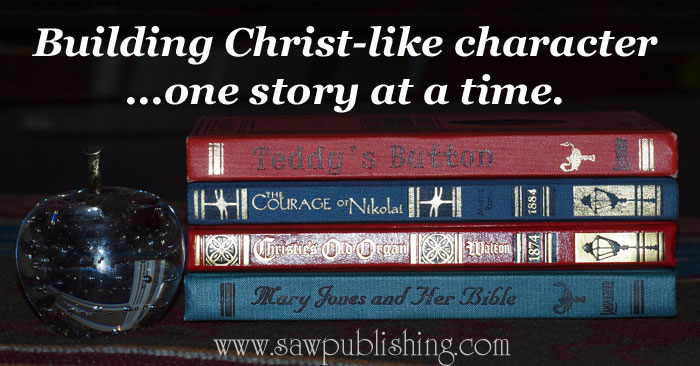 We have been reading books from Lamplighter Publishing for a number of years now and have enjoyed reviewing several recently for Sheep Among Wolves.  I remember the first time I bought a Lamplighter book at a homeschool conference.  I had been hearing about these books for a few months from other homeschool moms and I was determined to see what all of the fuss was about.  I was a little nervous as we were a single income family and our homeschool budget was limited.  Lamplighter books are not cheap!  They are beautifully bound, hard cover books printed on quality paper, so they necessarily run at a higher price than trade paperbacks do.
I bought a couple of books that year from the vendor with the lowest price.  I was more than pleased with the investment.  The books were a delight to look at and hold in my hands, giving the feel of an old fashioned Victorian novel.  The material within the pages was also a delight.  We have written elsewhere about our search for good quality, well written books in the spirit of Romans 16:19 – "wise unto that which is good, and simple concerning evil."  We were so pleasantly surprised by both the quality of the language and the Biblical character portrayed in the stories that we made it a priority to use some of our book budget each year to purchase Lamplighter books.
Please note that we have no affiliation with Lamplighter Publishing, or Lamplighter Ministries, and receive no remuneration for this or any other review of their materials.  We simply enjoy their products and wanted you to have an opportunity to learn more about them!
Who Is Lamplighter Publishing?
Lamplighter Publishing is one branch of Lamplighter Ministries, a not-for-profit organization begun by Mark Hamby in 1994.  They have expanded to include the following:
Life-Transforming Seminars
Lamplighter Publishing
Lamplighter Theatre
Lamplighter Guild
Lamplighter Bindery
Lamplighter Moments Daily Radio Broadcast
Their entire mission is based on Luke 1:17 ". . . to turn the hearts of the fathers to the children, and the disobedient to the wisdom of the just; to make ready a people prepared for the Lord."  I love their tagline on their site – Building Christ-like character . . . one story at a time.  It is exactly what we are seeking to do here at Sheep Among Wolves.
For more information on Lamplighter Ministries I encourage you to read all of the sections of their about page as it is very interesting.
Where Can I Get Their Products?
All of the products produced by Lamplighter are available on their website in the store section.  They also have a print catalogue that you can request.  They are located at Lamplighter Ministries, 23 State St., Mount Morris,  NY 14510.  Lamplighter offers tours if you are in the area.  You must arrange it ahead of time.  Contact them at 888-246-7735 for further information.
You can also find many of their books and CD's in various homeschooling catalogues and at many homeschooling conferences.

What Can I Expect From Lamplighter Products?
You can always expect quality from Lamplighter products.  Physical quality as well as quality of language.  Most Lamplighter books are reprints of old books.  The language is superior, the flow of sentence structure a delight to read.  The books are hard copies, cloth bound and contain the original illustrations on quality paper.
Many of the books published by Lamplighter can be found online in digital format for free.  Be forewarned, they are not the same edition as those printed by Lamplighter Publishing.  I read a title online that is also produced by Lamplighter and I was horrified at some of the content.  That is because Mark Hamby and his team go through every book they publish, editing for Biblical soundness.  They say it best themselves:
"Lamplighter books are edited within a Biblical theological framework to ensure that each story reflects the character of God and provides key Scriptures to be stored within the heart. The uniqueness of a Lamplighter book in contrast to other books with the same title is that they have been enhanced with helpful footnotes and woven with threads of Biblical truths that will be etched into an awakened moral conscience. These characteristics are what make our Lamplighter Collection so unique and highly valued."
 What Sort of Fiction Will I Find Here?
Most of the fiction that we have read from Lamplighter Publishing is well written and godly material.  It is, primarily, of the ilk of Victorian writing and as such does touch on some subjects that are not referred to as widely in modern writing.  For example, drunken people and homeless children can be found as characters in these stories.  It was a part of Victorian life that we don't experience in the same way in our modern culture.
Many of the stories we have read have promoted child evangelism.  It is subtle and does not interfere with the reading if you are of the belief that salvation should be discussed during an age of maturity, but it is something to be aware of.
We have found some books better suited to a slightly older audience, so use your discretion when purchasing new material for your children.  As well, there have been a couple of books that we would not recommend at all.  As with all reading material, parents must always be as the Bereans and search the scriptures for direction.
What Other Products Do They Produce?
Lamplighter Ministries produces a variety of materials including dramatised audio books and radio programs as well as a writing guild and various life seminars.  We have no experience with any of these other materials and encourage you to visit their website to assess whether or not you wish to explore them further.
Lamplighter Publishing is a great source for character building literature that is well written and Biblically sound.  If you have not seen any of their products, I encourage you to visit their website and purchase a book for yourself.  Or, if you are not sure about the financial outlay, you could borrow a book from a friend to see what you think.
There are discounted books that have been reduced in price available in the Lamplighter store, as well as an interesting book and audio club which allows you to save 10-40% by committing to purchase a certain number of titles per month.  We have never used this club, but it seems to be fairly priced and very flexible, allowing for vacation breaks and title choice.
As a wrap up of our focus on Lamplighter Publishing, we will be reviewing one more book in the next couple of weeks, entitled Teddy's Button.
If you are interested in seeing the rest of the books we have reviewed from Lamplighter, please click on the following links:  The True Princess, Little King Davie, The Courage of Nicolai, Christie's Old Organ and Mary Jones and Her Bible.  Are there any Lamplighter books that you would like to see us review in the future?