How to Make Vocabulary A Family Pursuit with the FREE Word of the Week (WOW) Program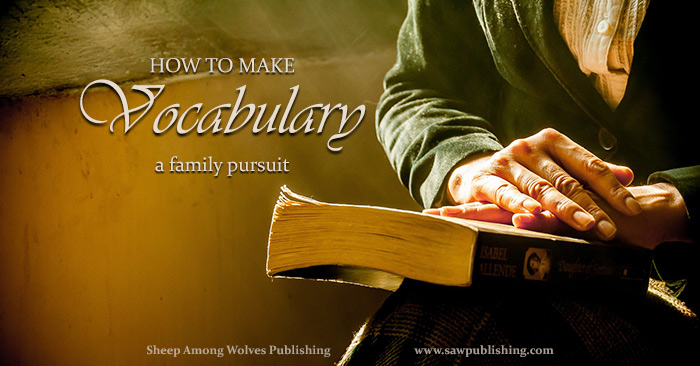 Do you find that you can always pick homeschoolers out of a crowd? As a homeschool graduate, I often flatter myself I can do a pretty good job of just that, but once or twice I've been rather baffled to discover that my "homeschooler" wasn't a homeschooler at all.
But perhaps, on second examination, I wasn't so far wrong as I thought. What I've actually trained myself to detect is the strength of family—the amount of closeness between parents and children, and the universal interest in each others' lives which the really close families invariably display.
Homeschooling is an excellent way to foster this closeness, but it needs to be intentional. How can we maintain this family focus, as we deal with a wide range of ages and learning levels?
Families Should Grow Together
In order for families to fulfill their God-given potential it is important that they are progressing together along the same road. As Christian homeschoolers this premise should be especially self-evident, because homeschooling is essentially about building and cementing the role of family in every aspect of daily life, until the family becomes the pillar around which life revolves.
This doesn't mean that every child should be learning exactly the same school lesson at exactly the same time, but it does mean that there is great value in incorporating subjects, and letting the family learn together whenever possible.
Shared interests and experiences are what draw people together, and shared learning experiences will give a family greater interest and sympathy in each others' lives. What we learn together, we discuss together, and what we discuss together is where we have common ground. The more shared experiences we can create, the more we think and feel together as a family.
Parents Set the Tone
As with anything else, when the parents take the initiative in this respect, the children will quickly embrace it. If Dad and Mom promote and encourage learning as a family, everyone else will soon consider it normal and self-evident.
I can't count the number of times growing up that my parents stopped as we were reading aloud to discuss an unfamiliar word. If it was a word they knew, they explained it. If it was one they didn't know, we looked it up.
Learning accomplished in this way becomes an enjoyable family experience, rather than a task. I never remember thinking, "Oh, this is so dry and boring," when we looked up words, rather it was interesting, because Mom and Dad found it interesting.
The words I've learned through family reading and discussion have fixed themselves in my memory much better than those I looked up on my own.
Using WOW with The Whole Family
Sheep Among Wolves' Word of the Week (WOW) program, lends itself well to precisely this kind of "learning as a family" approach. Here are a few tips for using this philosophy with WOW:
Include multiple grades in the full WOW course. The Word of the Week program is not written for one particular grade-level. Students from multiple grades can easily work together on it.
Read aloud the short definition and memory verse. Students who are too young or too old to derive maximum benefit from the whole program can still be included in each week's quest to use the WOW word in daily life. If you have time to read the short definition and memory verse with the whole family outside of school hours (for example, around a meal table) so much the better.
Include the family in WOW activities. Many of the WOW activities can be enjoyed by a large age and vocabulary range. Don't hesitate to encourage everyone to participate.
Sing the hymn together! Every week's lesson contains a link to the full hymn text, with sheet music and an audio recording of each tune. Take advantage of the opportunity to grow your vocabulary through great music.
These activities will not only increase the likelihood that students internalize and retain new vocabulary, they will also increase the strength of relationships within the family.
How to Make Vocabulary a Family Pursuit
Learning new vocabulary together might seem like a pretty small and insignificant thing, but I assure you that its results are profound.
Shared experiences and shared history go a long way in forming close families. The closest families always learn together, whether they consciously recognize that fact or not.
If we learn new words together, then when we learn new words on our own, we want to share them with the family. This means that whatever one of us learns, we all learn.
Whatever method we employ in learning new vocabulary, it needs to be a family pursuit. What begins with a dictionary at family read-aloud time, could end with your family being the one that people can pick out of a crowd, because of the closeness derived in part from learning together.
To access our free Word of the Week program, sign up here:
Are you looking for more ways to highlight your WOW words throughout the week? See our post, How to Boost Your Child's Vocabulary in 36 Words, for activities and tips.
You might also enjoy: