Breezes from My Childhood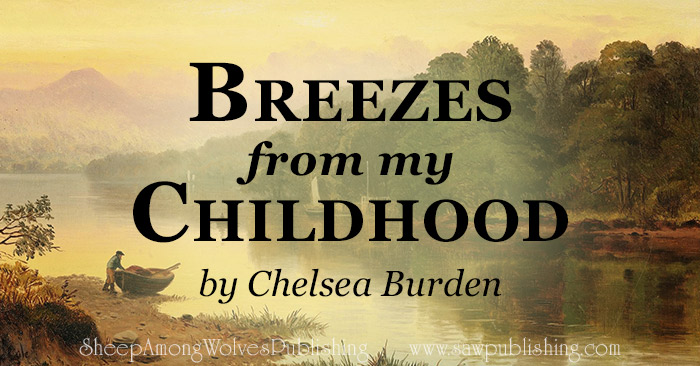 Does the past seem carefree and delightful to you?  Do you feel that the present is filled with perplexity and care?  Every season in our lives will have its share both of pleasure and pain, but sometimes remembering happy days gone by can take our minds for a short while away from the problems of today.  The poem "Breezes from My Childhood" was written after hearing a song that was closely connected to my childhood and brought back to me a flood of memories.  We can never go back to the past, and in many cases we wouldn't really want to, but sometimes a happy interlude of reminiscence can invigorate and encourage us, as hour after hour slips by to join those that have gone before.
Breezes from My Childhood
There are times in the ebbing and flowing of life,
When we cease from its struggles, its worries and strife,
And our life-clock hangs stilled in its chime;
When we wander, as now, with a heart strangely light,
In that soft, gentle twilight 'twixt daytime and night,
With an innocent freedom from time;
As breezes from my childhood steal;
And notes of song reflected peal;
The echoes of a time those rolling years would fain conceal.
I look back on the years which have vanished away—
From my earliest hour to my last yesterday—
And I feel a strange pang of regret:
For the years flew so quickly I hardly had space
For to treasure each moment, each transient place,
Lest in moving beyond I forget.
And as I gaze upon the sky,
I see it all in mem'ry's eye;
And almost I could feel those yesteryears were somehow nigh.
But withal there's a billowing gust of relief
In revisiting all of my pleasure and grief;
As they waft in a tidal refrain;
In remembering them I can somehow forget
All the problems, the struggles, and doubts that beset;
And my heart is set free from their pain.
The freshest breeze which ever blew;
The coolest, most refreshing dew;
Seems poured upon my way, my failing vigour to renew.
There's a yearning they bring—not at all to go back,
Or to live once again the whole course of my track—
But to hold their remembrances near;
And an equally forceful desire to soar
Through the years which are waiting their blessings to pour
On a heart that will greet them as dear.
A wish to never more let go
The thoughts these childhood breezes blow,
But rather to renew them as the coming seasons flow.
But whatever I do, or if nothing at all,
I am glad these sensations and echoes could fall
From a time which seems carefree from here;
For those breezes have wafted a melody sweet,
As they render this moment a gladsome retreat,
A seclusion from trouble and fear.
And as it slips into the past,
This hour, like those before, shall last,
And join their pealing echoes soaring back upon the blast.
© Chelsea Burden and www.sawpublishing.com, 2016. Unauthorized use and/or duplication of this material without express and written permission this site's author and/or owner is strictly prohibited.
You might also like: