Sheep Among Wolves' Good and Great Poetry Course was created to teach high school students how to write poems that are both good and great.  This FREE 10-week course takes a look at some fundamental elements of poetical structure as well as the themes and subject-matter which really make up the soul of a poem.  For a full explanation of the course, see our post entitled 10 Weeks to Writing Good and Great Poetry.  To receive the course in 10 weekly email lessons, sign up here, or at the bottom of this post.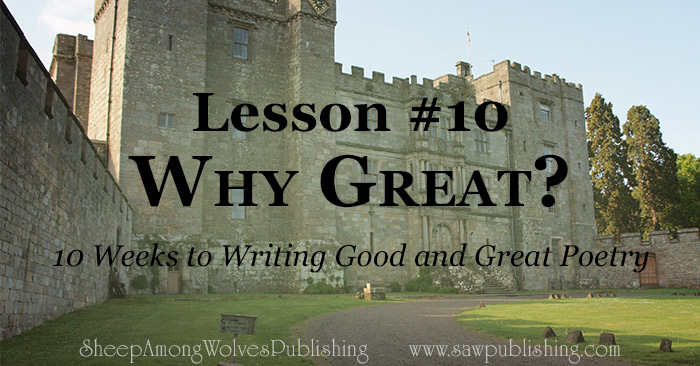 Hark! the herald angels sing,
"Glory to the newborn King!
Peace on earth and mercy mild,
God and sinners reconciled!"
Joyful, all ye nations rise,
Join the triumph of the skies;
With th'angelic hosts proclaim,
"Christ is born in Bethlehem!"
Hark! the herald angels sing,
"Glory to the newborn King!"
Christmastime is coming round again.  In a few weeks the whole of the Christian world will be celebrating the Saviour's birth.  And in the English-speaking portion of Christianity, hardly a church will omit the singing of "Hark! the Herald Angels Sing," possibly Charles Wesley's greatest single contribution to English hymnody.  All over the world those glorious, triumphant strains will echo, inspiring thousands upon thousands of people with joy and gladness.  Inspiring them by great poetry with the meaning of good poetry.
Do you wish you could write poems like that?  Poems that will live on, and speak on, long after you have joined the angels singing in heaven?  It might take the effort of a lifetime to leave one poem like that.  After all, Charles Wesley wrote over 6,000 hymns in the course of his life, and in my opinion this one surpasses all the others in beauty and majesty.  But every upward step in writing better poetry, takes us a little closer to leaving behind us a legacy like that, which can impact so many thousands for so many years, and lead them ever heavenward.
It is my hope that this series has been an inspiration and encouragement to you, as you strive to make each poem that you write both good and great.  In the tenth and final lesson of the course, we will take a look at the importance of great poetry, and the impact which greatness has on goodness.
Why Great?
Of course, we all see the need to reach a certain level of greatness in writing poetry.  Very few of us are aiming at Humpty-Dumpty, as we talked about in the first lesson.  But if the content is good, and the structure acceptable, do we really need to worry about making every phrase and expression perfect?  Does it matter if the rhyme is not quite right, and the meter has a few awkward places?  Is it important if line three of stanza two really doesn't quite say what it was intended to?  Let me ask you something else.  Why do you write poetry at all?  What are you aiming at, and when are you satisfied?  At the end of the day, if your poems were all Good, but not a single one of them Great, would that be enough for you?
Here are three reasons why writing great poems is almost as important as writing good ones.
Greatness Enhances Goodness
In lesson three (Thesis Statements) you found the statement that no topic is great which is not also good.  Without speaking quite so strongly here, I might say that goodness is very much enhanced by greatness.  A good thought expressed in great poetry has far more force to impact the reader for good, than the selfsame thought badly expressed, or even tolerably expressed.  It is great poetry which allows a good subject to be powerful, as we observed in "Hark! the Herald Angels Sing."
Look at this verse from "The King of Love My Shepherd Is."
"The King of love my shepherd is,
Whose goodness faileth never.
I nothing lack if I am his,
And he is mine forever."
Does that sound a little bit like "The Lord's My Shepherd"?  It should, because it is based on the same psalm.  "The Lord's My Shepherd" is not bad poetry, in fact it's quite good when you consider the difficulties of paraphrasing a psalm, but this hymn is even better in terms of poetry, though it is obviously intended to be more loosely based on the original psalm.  See how the expression of the thought is more powerful here, because the poetry is more striking?  That is what great poetry should do; use its greatness to enhance its goodness.
Greatness Engages the Reader
So much poetry has been written and read, that it takes something out of the common way to engage our attention and allow us to listen to what the author is putting forward.  If you have anything really worth saying, it is also worth the investment of greatness, because the reader will quickly detect that there is something special about your poems.  Greatness does that.  A few striking lines at the beginning, or a smoothness and flow that is refreshing to the ear, will be sure to gain the attention of anyone who appreciates poetry.
Listen to the opening verse of "All Beautiful the March of Days."
"All beautiful the march of days,
As seasons come and go.
God's hand that shaped the rose hath wrought
The crystal of the snow,
Hath sent the hoary frost of heav'n,
The flowing waters sealed,
And laid a silent loveliness
On hill and wood and field."
If you have never heard this hymn before, do you now want to read the rest of it?  If you already know it, do you enjoy reading it over again?  Whichever the case, you can see that it is the greatness of this poem that engages your attention, and makes you want to pay attention to the subject.
Greatness Provides a Challenge for the Poet
Perhaps this is a selfish consideration, but if you are a poet you probably like to write something which stretches you, and gives you a little bit of a challenge.  And perhaps there's a less selfish side to this.  If God gave you the ability to write poems, doesn't it make sense that He would be more pleased if you praised Him with great poetry, than with poetry that didn't reach your full capacity?  I'm not at all saying that God appreciates only praise which is offered by those of high ability, but I think He does care that we should bring our best to Him, whatever that best may be.  Thus, if we can write great poems, we ought to cultivate that ability, and strive to write at the highest level we are able.  This will continually provide challenge and growth for all of us, as we strive to make the next poem better than the last.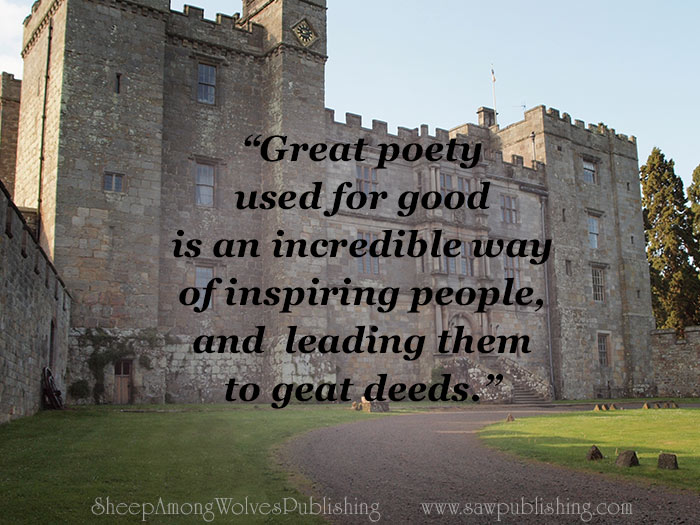 We Need More Good and Great Poems
There is a tremendous need for poems that are both good and great.  That in itself would be sufficient reason for each and every one of us to write great poems.  We need every poem you or I can write that is great as well as good.  Every time you pick up your pen to write a greater poem than you did before, you are doing a service to the world, because you are reaching one step closer to greatness which can impact and empower others.  Great poetry used for good is an incredible way of inspiring people, and leading them to great deeds.
I encourage every one of you reading this lesson to keep writing poetry, and keep expanding your ability.  Perhaps you haven't reached greatness yet, but don't worry.  Greatness is quite as much a daily progression as a final destination.  Keep writing, and perhaps one day you will be able to write a poem which inspires people even after you have left this world.
I wonder what Charles Wesley would think if he knew that his "Herald Angels" are still singing "Glory to the newborn King" today, and inspiring generations of readers with the grandeur and poetry of an idea so familiar that we forget how powerful it is.  Probably he would be astonished.  But he shouldn't be astonished, because every time we write a poem that is both good and great we are laying a foundation for others to build on—sometimes a hundred years after we are no longer living.  In the end, greatness can make good poetry last that long.
To receive a PDF of the assignment for this lesson sign up below. 
This is the end of the 10 Weeks to Writing Good and Great Poetry course.  I hope this course has been a blessing and encouragement to you.  I'm thankful for the opportunity to clarify these various aspects of poetry that were previously only intuition to me, and it is my desire that it may also help all of you to write better poetry.
I would love to have you email me the beginning and ending poems from this course at chelsea at sawpublishing dot com.  I can see a definite improvement in my own poem, and I would be interested to see any poems you would be willing to send me.  I am also happy to answer any questions you have about the subjects covered in this course, or about poetry in general.
May God help each and every one of us to glorify Him through poems that are both good and great.
How To Sign Up
All ten poetry lessons can be found by clicking on the Poet's Corner tab in the menu.  If you would like to receive the course assignments as well, you can sign up below to have the lessons and assignments delivered by email over a ten week period.
This post may have been shared with the following linkups: The Art of Homemaking Mondays, Monday's Musings, The Modest Mom, Homemaking Wednesdays, Wise Woman Linkup.