Character Interview with Carita from Victory's Voice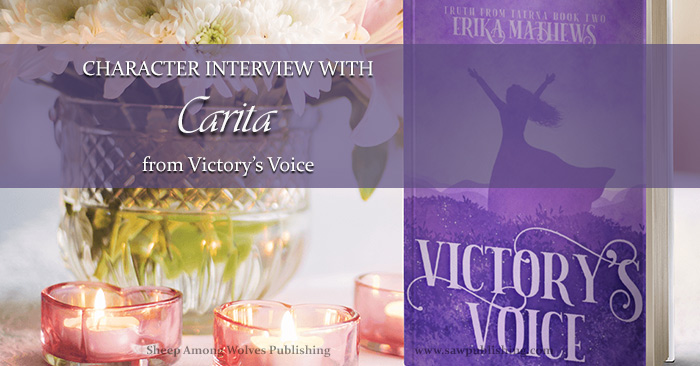 Do you ever wish you could ask questions of your favourite characters? You know, sit down and have a conversation with them—gleaning their wisdom and having a really good time into the bargain? Are you one of those people who likes to imagine those characters are real?
I know I am! And that's why, when I had the opportunity to interview Carita as part of the Victory's Voice launch tour, I jumped at the offer! I just felt that I HAD to hear Carita's answers to a few questions swirling around in my mind.
Victory's Voice (Truth from Taerna, Book 2) Is Finally Here!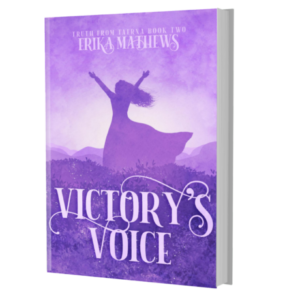 About the Book:
When an extroverted bookworm discovers the hidden power of spoken words, death and life tremble in the balance on the tip of her tongue. But not only figuratively.
At seventeen, Ellisia's passion for learning and books dominates her small-town existence. No wonder she's elated when an opportunity to attend Academy arises: she can finally fulfill her lifelong goals to further her education and see the famed Palace BookHall. But as she begins to discover the true power of the spoken word, she faces a choice: join forces with a foreign physicist or relinquish her dream to someday work in the BookHall. Loyalties and ambitions war within Ellisia once the scientist's projects begin to threaten her family's safety. When impending crisis brings a clash of spiritual kingdoms, Ellisia must once for all choose how she'll harness the power of words. Spoken words transcend her reality, uniting heavenly with earthly and commanding the forces that drive the physical world, and Ellisia's voice will be the catalyst for sure defeat—or decisive victory.
Click through to Amazon to order or check out my review here!
Truth from Taerna is a six-book kingdom adventure fiction series born from a heart to communicate the truths of God's kingdom—the spiritual realm hidden from our physical senses—in an engaging story format. Each book focuses on an aspect of spiritual truth that today's church often downplays.
Carita is the older sister of Ellisia in Victory's Voice and a main character in Promise's Prayer (Truth from Taerna, Book 1). Adon Olam is a transliteration from Hebrew, meaning "Lord of Eternity" and is the Taernan name for God.
It's good to be joined by you today, Carita!
What is the meaning/significance of your name or why do you like it?
My name, Carita, means "beloved." I love my name and its meaning because it reflects on my parents' hearts—they loved me so much more than I ever deserved. I couldn't have asked for better parents. I also love the constant reminder that I am beloved by Adon Olam. So often I have felt insignificant or unworthy or like no one truly cares about me—but I know Adon Olam loves me with an everlasting love. That's something He revealed to me when I was younger: He calls me beloved and so I am.
What is your favourite incident/lesson in Victory's Voice and how is it meaningful to you?
There was a moment in the meeting-house that one day when my faith in Adon Olam and the power of prayer slipped for just a moment, when I looked at Kaelan and felt in my spirit the spiritual attack upon him. That was a scary moment: seeing the power of the enemy and feeling my own helplessness. And I was scared to obey Adon Olam in that moment—even with Kaelan in danger, I was still afraid of what people might think of me and of seeming strange or odd—but as I obeyed Him, His peace came over me so strongly that I knew He was the victor no matter what happened to Kaelan. It was another confirmation to me of how trustworthy He is and how following His leading even in small ways indeed brings His kingdom to Taerna.
What would you say to someone in Ellisia's shoes at the beginning of Victory's Voice, to spare them from learning the hard way, as she did?
For Ellisia herself, I am not sure that I could say anymore than what I said to her right before she left for Syorien. Of course, looking back upon the situation, had I known her fascination with words earlier on, I could have guided her into Adon Olam's view of words so much sooner in her life. It's easy to feel like her struggles were my fault, or that I should have known and done something different, but I know Adon Olam's hand never left her. She was on my heart every day she was gone, and I'm so thankful for the leading of the Spirit to pray for her without ceasing.
To someone else in a similar situation, I would say this: Seek Adon Olam in everything. Listen to Him. Bring everything before Him, and don't move forward without His peace. In my life, I've found He leads with His peace. If your spirit isn't settled, that's not Adon Olam in you. As long as you are seeking Him with your whole heart, He won't let you wander. He loves you too much for that!
Which character surprised or delighted you by their role in Victory's Voice?
I was surprised at how deeply Ellisia had entrenched herself in the worldly side of science without my knowledge. I didn't expect that of her at all. I tried my best to hide that surprise from her—I didn't want to alienate her confidence. Yet I must say I was also surprised and delighted at her selflessness later on. Total selflessness is something I hadn't seen in her before, and once she allowed Adon Olam to work that in her, I'm not surprised at how He used her at Academy!
I was intrigued by the lessons you and Kaelan learned about prayer and relying on God in Promise's Prayer (Truth from Taerna, Book 1), and I really wanted to hear more of that part of your story! What would be your answer to someone who read Promise's Prayer and asked, "how can I"?
Listen to Adon Olam. He loves to talk to us all the time, but so often our ears are not tuned to hear His voice. And spend time—lots of time—with Him. Get to know Him. You won't enjoy talking with Him if you don't know Him—but once you know Him, you can't help but want to spend all the time you can with Him. And if you want to learn to pray, just pray. Do it. Make time in your day, and talk to Him. Don't forget, of course, that listening to Him is part of prayer. All the battles of life happen in prayer. Once the prayer battle is won, the corresponding battle in life is also won. And I think that's a huge part of it: you have to be desperate. You have to know you can't live without Adon Olam. Because we can't. We need Him for every breath, so everty breath must be a prayer.
What advice do you have for your sister-in-law Laelara as she embarks on her own adventure in Surrender's Strength (Truth from Taerna, Book 3)?
I hear tell she's headed for Academy in Syorien herself this autumn, even though I know it's not her choice. And for that reason alone, I believe Adon Olam has a calling or a purpose for her there in Syorien. I don't know what it is yet, but I'd love to see Him work in her life in a mighty way. I'd love to see her yield herself to Him—for her to know she can trust Him with everything in her life, even if it might not look like she thinks it should. So I would tell Laelara, "Go with Adon Olam. Listen to His voice, and trust His Word." I'd also advise her to get into the Word every day—to memorize and meditate on a specific passage from the Book, turning it about in her mind, pondering it in her heart, and applying it to her life. Worth is not found in accomplishment or productivity or control, but rather in fulfilling His purpose for us, even if it looks like nothing in the eyes of the world.
And in closing (because we have to have a really fun/crazy question!) what would you pick if your author let you change one element in your story/plot/world, whether a technological advance or a plot twist or a social reality you live with each day?
Oh, there are so many things I think I'd want to change! But in reality, even the difficult parts of my life have proven a blessing, and I've learned and grown so much through them. Even the hardest things I really can't say I'd exchange for anything. As for technological advances, it would be helpful if someone would invent a way to wash dishes more quickly and efficiently and keep the mud from coming straight back on the floor. That would certainly be a blessing in my life!
But ultimately, I know that doesn't matter in light of eternity . . . So, I suppose, given the chance to change just one element, I would unhesitatingly say, "Let all of Taerna fall on their knees before Adon Olam today." Let people recognize the deadness of following personal pleasure and let them all seek the pleasure of Adon Olam for which they were created. Let revival sweep across the Four Countries, and let His name be known, magnified, and proclaimed. Adon Olam, Your kingdom come!
Thank you for joining me, Carita! It was fun to "talk" with my favourite character from the Truth from Taerna series!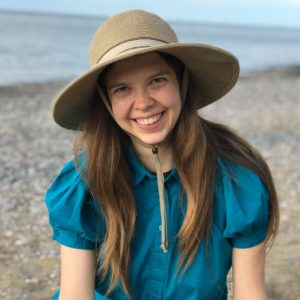 About the Author
Erika Mathews writes Christian living books, both fiction and non-fiction, that demonstrate the power of the kingdom of God through ordinary people, transforming daily life into His resting life. She's a homeschool graduate with a Bachelor's in Communications, a Master's in Biblical Ministries, and a passion for sharing Jesus Christ and His truth. Outside of writing, she spends time with her husband Josh, mothers her little ones, reads, edits, enjoys the great Minnesota outdoors, plays piano and violin, makes heroic ventures into minimalism, clean eating, and gardening, and uses the Oxford comma. You can connect with Erika at restinglife.com.
For more about Victory's Voice and the Truth from Taerna series, check out my review: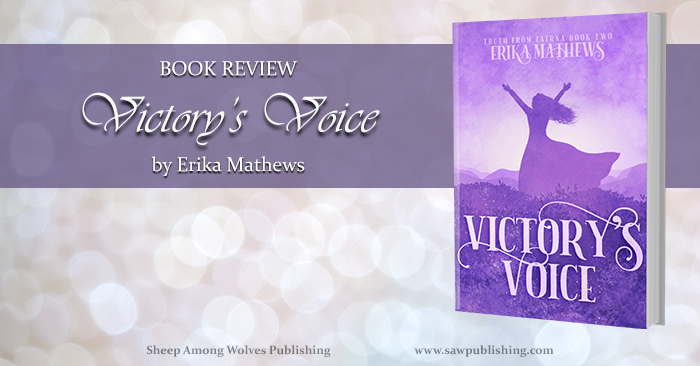 You might also enjoy: