What If My Student Hates Math?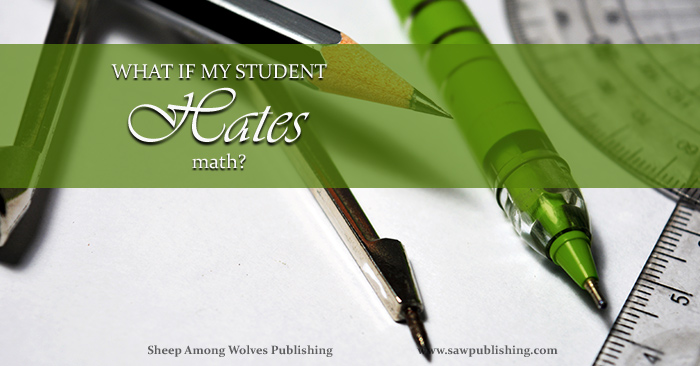 I am not the person who should be writing this post.
That was my initial thought, when I considered today's topic. After all, I reasoned, I used to be the student who hated math. In fact, the only reason I'm not still the student who hates math, is that . . . well . . . I'm no longer a student.
If I were, I'm confident I'd still be struggling.
Then it hit me. If I used to be the student who hated math. (Which I was.) And if I still think math is a subject we should teach. (Which I do.) Then I probably have something to say after all.
So I am offering you three tips from a student who hated math, to the homeschooling teachers of students who hate math, in the hope that even if math is never our favourite subject, we can all learn to embrace it in the best possible way.
1) Keep Math Practical
We all recognise that sometimes we have to do things we don't like. I personally, as an example, do not enjoy crossing busy streets. Even when there's a crosswalk. However, I appreciate the fact that sometimes I have to cross the road if I want to get to the other side. (Please don't take the allusion to the chicken joke too seriously!)
When a child struggles with a subject, the usefulness of that subject should be made as obvious as possible. No one likes to suffer for an obscure or doubtful cause.
To return to our busy street example, I would definitely lack motivation if there was no perceptible purpose to my road crossing adventure—if I perceived it as a useless form, an attempt to keep up with peers, or a whim of the person walking with me.
The more practicality-focused math becomes, the easier it is for a math-hating child to understand why they need to study it. Maybe math isn't ever going to be a breeze for some of us, but we can put our heart into it as we learn to accept it as a necessary, and useful, part of life.
2) Don't Push Further Than You Have To
Following on the heels of the idea of practicality, comes the reminder not to feel pressure, or put pressure on your child, to struggle further in math than they really need to.
It is a mistake to force your homeschool student through geometry and trigonometry and calculus simply because of a mistaken impression that you won't have won the battle of education until they've mastered them.
It can be hard to give ourselves permission to do this. Homeschooling parents often struggle under the burden of feeling like they need to be superheroes—wonder-working educationalists, able to take an average child, with average interests and abilities, and turn them into an all-successful genius in every area of academic development.
Let's remember that God probably hasn't called you to raise an all-successful genius. He has simply called you to raise your child faithfully for Him.
3) Recognise the Talents God Has Given Your Student
I realize that this post has been largely directed towards the student who actually isn't good at math, rather than the one who dislikes it, but still has a talent for numbers.
Whichever case applies to your student who hates math, I would encourage you to direct both your own focus and that of your student towards their strengths rather than their weaknesses.
If your student hates math, but is actually good at it, focus on that talent as a gift God has given. Very likely, there are changes you can make in terms of curriculum or approach which will allow your student to overcome their dislike of math. Or perhaps they are just at a stage of life where sitting still working with a pencil and paper is enough to make them dread any subject! Remember that stages of life do pass.
If, on the other hand, your student hates math because they struggle with it, don't be discouraged. I would still encourage you to try to find the curriculum and teaching style which will bring out the best in your student, but don't make math the test of personal value. Don't even make it the test of educational value. Focus on the talents your student does have. God has given each of us ample blessings, gifts, and aptitudes—keep your eyes on them.
Sometimes Your Student Hates Math!
No student loves everything. Every child probably goes through at least one stage of hating at least one of their school subjects.  You are not the first homeschooling mom who has found their child dissolved in tears because they had to do a column of addition.
(Really, truly, you're not. I can testify personally! I've been that child.)
If your student hates math, strive to make it practical. Don't push them beyond the point they really need to reach. Keep your focus on the talents they are blessed with.
Above all—don't be discouraged. You are doing a great job as a homeschooling teacher. Even if your student hates math!
Can you identify with the "student hates" problem, but find your child is struggling with language arts rather than math? See our earlier post: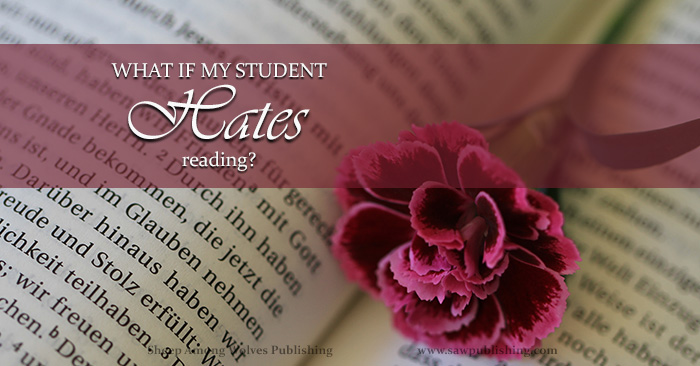 You might also enjoy: