Seventeen-Ounce Miracle—Book Review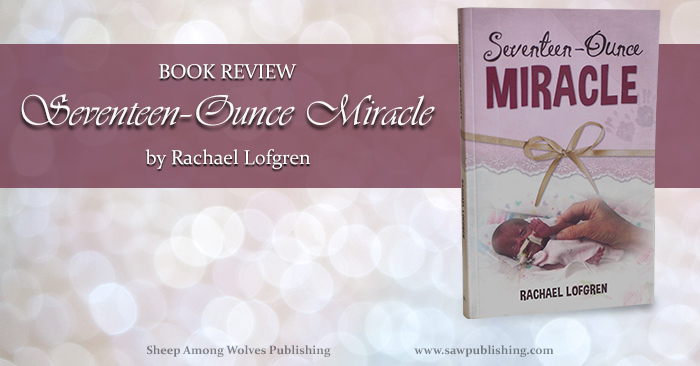 Do you ever wonder whether God really will provide? Whether He still works miracles today in the lives of His people? All of us face moments when our world seems to be crashing down. In those moments, where do we turn?
For Esther and Galen Lengacher, the answer was God and His people. And throughout their long and difficult journey, they saw over and over again how God really does work miracles—through prayers, through the brotherhood, and sometimes through protection and healing that are truly supernatural.
In Galen's own words, "We can still see our God today. He is a God who hears. He is a God who cares about individual people. It was because of this care that God placed us in the midst of difficult circumstances so that we might be a showcase of His grace. There's not a time I've doubted this, but I have often felt unworthy to have been so much the centre of His attention."
I have to ask myself—could I have said this in their shoes? Faced with the possibility of losing yet another child, could I have had the faith and the courage to trust God no matter what?
This book has challenged my faith and strengthened my belief in the power of prayer.
Book Details
Title: Seventeen-Ounce Miracle
Author: Rachael Lofgren
Publisher: TGS International
Genre: Medical true stories
Number of Pages: 186
Theme: Miracles, answers to prayer
Age Range: Youth and Adult
Summary
After repeated miscarriage and heartache, Galen and Esther Lengacher have two sweet little girls, and are expecting another. But when Esther goes into labour at 22 weeks, another heart-rending loss seems inevitable—a loss they aren't sure they can face. Will God perform a miracle and save their precious little one? Journey with the Lengachers through the ups and downs of trusting God in the midst of crisis, and discovering that He answers prayers and works miracles—even seventeen-ounce ones.
This powerful and engaging story will challenge the way you respond to life's difficulties—and will strengthen your faith in a God who still works in His children's lives.
SAW Rating System
We have recently altered our reviewing system using the model of our poetry grading worksheet. For an explanation of the new system, see our introductory post.
Total Score—82/100
Great Qualities—39/50
Plot development—8/10
Character development—6/10
Command of language—8/10
Impact of the book—9/10
Originality—8/10
Good Qualities—43/50
Innocence regarding evil—8/10
Active promotion of good—9/10
Level of spiritual challenge—9/10
Healthy view of life—8/10
Honouring God—9/10
Items of Note
Romance and morality
There is an instance of a single unwedded mother, and one of an unmarried couple with an infant child.
Disturbing content
Miscarriages and the death of infant children are topics which arise at various points. Medical details throughout Angelika's hospital stay are handled well, but do involve potentially unpleasant facts and might be disturbing to sensitive or younger readers.
Language
No issues.
Alcohol and drug use (includes tobacco)
A non-Christian woman is expelled from the Ronald McDonald House due to a drunken party.
Spiritual content
This book is written from a conservative Mennonite perspective, but is appropriate for a wide range of audiences.
Family roles and behavior
An unmarried couple appears briefly in the story and struggles with fighting and relationship problems.
Mature subject matter
Pregnancy problems, premature labour and delivery play a role in the story. The issues are handled discreetly but include subject-matter that might be inappropriate for younger audiences.
Seventeen-Ounce Miracle—A Story of God's Answers to Prayer
I remembered from the first time that I read Seventeen-Ounce Miracle that it was an amazing story. I remembered it was a medical "success story" rather than a tragedy. I remembered, even, that God had worked wonders in the life of little Angelika Lengacher and protected her through unbelievable and at time seemingly insurmountable difficulties.
What I realized afresh reading the second time, however, was how much this story is a true account of how God answers prayers. Time and again, when facing a crisis, Galen and Esther take a moment to pray. Their first response in any emergency is to reach out to the Father—and to other believers who can intercede with them.
It was a challenge to me in my personal life. Do I reach out to God as the first thing when I face difficulty? Am I willing to pray in the big things and the little things? When I might feel self-conscious? When others are listening? Am I willing to be a testimony to others by the prayers I pray, and by the praise I give to God when those prayers are answered?
I don't know about you, but that is definitely the person I want to become. A person who asks for miracles—and a person who praises God before the watching world when He answers.
Looking for other inspiring stories that will turn your focus to God? See our review of The Bishop's Shadow: