Holiday Tales—Book Review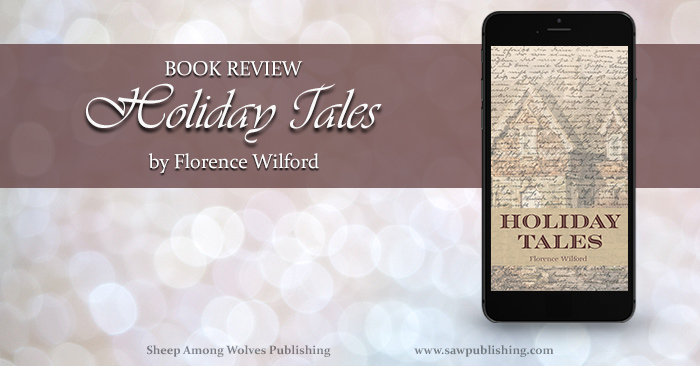 What would you do if you were punished for something you didn't do? And were expected to be sorry for a fault you didn't commit?
Would you sulk and feel sorry for yourself? Or would you choose to believe that God had a purpose even in this unjust punishment?
I found both that question and Cecil Cunningham's final answer to it an interesting and challenging perspective on the familiar truth that God works all things for good.
Holiday Tales is a volume of two short chapter stories by Florence Wilford. While the first story "Seven Campbells," is a harmless and pleasant-enough tale of seven brothers in the summer holidays, the real reason we chose to review this book was for the second story, "Cecil's Memorable Week."
I was challenged by Cecil's eventual response to a circumstance that I know I would struggle to view as anything other than unjust and totally undeserved.
Book Details
Title: Holiday Tales
Author: Florence Wilford
Publisher: Griffith, Farran, Okeden and Welsh
Genre: Victorian Fiction
Number of Pages: 69
Theme: Submission and Obedience
Age Range: 10-14
Source: Project Gutenberg
Summary
A surprise garden for an invalid mother, and a lost scholarship—what do they have in common? Perhaps not much on the surface, but through each a boy learns valuable lessons about submission and respect that will serve him for a lifetime.
Holiday Tales is a volume of two stories set in the Long Vacation (British summer holidays), and the lessons learned by seven Campbell brothers and the unfortunate Cecil Cunningham.
SAW Rating System
We have recently altered our reviewing system using the model of our poetry grading worksheet. For an explanation of the new system, see our introductory post.
Total Score—73/100
Great Qualities—36/50
Plot development—7/10
Character development—7/10
Command of language—7/10
Impact of the book—8/10
Originality—7/10
Good Qualities—37/50
Innocence regarding evil—8/10
Active promotion of good—8/10
Level of spiritual challenge—7/10
Healthy view of life—7/10
Honouring God—7/10
Items of Note
Romance and morality
No issues.
Disturbing content
No issues.
Language
The words "idiot," "blockhead," and "stupid" appear once each. "Gay" and "queer" are used in their older senses. "Thank God," is said in genuine gratitude. Such exclamations as "Body o' me!" and "bless you!" arise in place of expletives.
Alcohol and drug use (includes tobacco)
A landlady offers wine to a boy who chooses water instead.
Spiritual content
This story is written from a High Anglican perspective, but would be applicable to a wide range of denominations.
War and the military are portrayed as an acceptable and heroic profession.
Family roles and behavior
The fathers in both stories have a somewhat stern and arbitrary manner of making judgments and meting out discipline, that sometimes causes them to err in their conclusions. These patterns of behaviour are never addressed.
There is a certain tone of contempt and looking down from elder brothers to younger brothers.
Some of the characters struggle with negative attitudes such as disrespect, rebelliousness and jealousy, but eventually choose better ways of responding.
Mature subject matter
No issues.
Holiday Tales—A Different Perspective
I have read many stories that hinged partially or entirely on a false accusation. Most of them portray the hero's praiseworthy conduct under suspicion and his ultimate triumph when his innocence is proven. Very few of them address the question—why did God let this happen?
And not one that I can remember, draws the conclusion Florence Wilford does.
Personally, I really struggle with unmerited blame. It's hard for me to accept situations where I am treated as though I were guilty of something I never did.
But I wonder, if I chose to view them the way Cecil did, whether they would end up being memorable—and even positive—experiences.
Enjoy reading little-known vintage stories? See our review of Lily Gordon: