What If My Student Hates School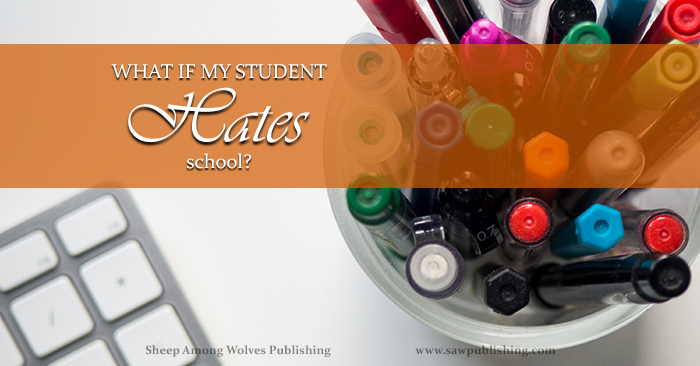 What do you do if your student hates school?
Most homeschooling parents feel a certain amount of pressure to succeed. Some of this pressure is applied by external sources. Some of it is self-inflicted. But the fact remains that homeschooling parents, as a category, feel a profound obligation to get it right.
And are you really getting it right if your student hates school? How on earth can you meet the horrible failure of feeling that your child avoids, dislikes, or even dreads the education you are pouring your soul into providing?
Here are a few thoughts for the homeschooling parents of the students who hate school.
WHY Does Your Student Hate School?
Identifying the why in a problem is a key step to identifying the solution. Not all students hate school for the same reason, and not all cures need to focus on the same point. A few common triggers for the comment, "I hate school" include:
The student struggles at school, and so feels like a failure during school hours.
The student is bored, and so doesn't find school motivating.
The student has high energy levels, and doesn't enjoy sitting still to learn.
The student has negative memories of past school days, and has labeled school as "bad" regardless of how the current educational experience is going.
None of these problems offers a true "quick fix" solution, but each one highlights a different area of education that needs to be targeted.
Do you know why your student hates school? Have you ever actually talked about it? An open conversation on this topic might be the first step towards active improvement.
Does Hating School Mean Hating Education?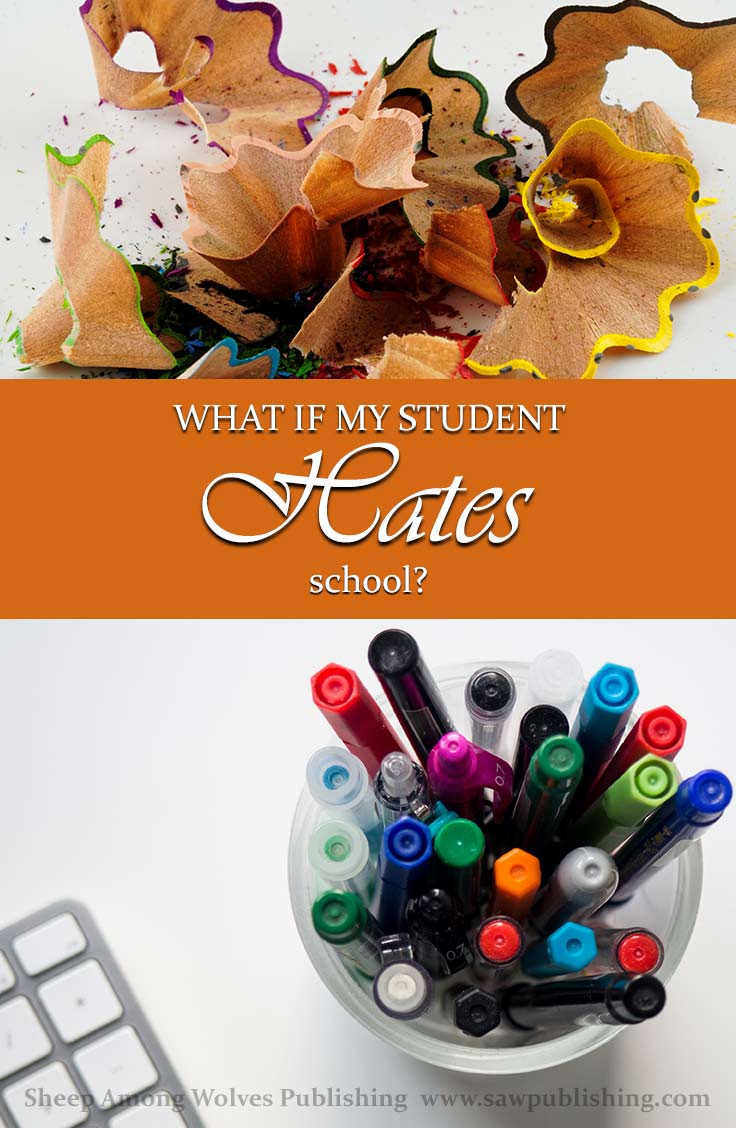 Children tend to lump things into categories. Okay, grown-ups probably do that a bit, too!
So while you and your student are placing their feelings firmly in the "hate school" box, you run the risk of confusing two vital principles: the principle of Formal Education and the principle of General Education.
Homeschoolers have the wonderful privilege of superintending both the formal education and general education of their child. A homeschooling teacher is actually in a significantly more encouraging position than a traditional school teacher when it comes to educating a child who hates school.
Do not be discouraged that your child hates school. Rather, rejoice in the fact that your educational opportunities are not limited to formal school hours. A child can love learning, even while he hates school.
Doing What We Like vs. Liking What We Do
Two years ago I jotted down a quote from a public domain book I was reading, that bears potently on this very issue. I noted the book I had (supposedly) got it from, but in trying to locate the quote for this post, I have been absolutely baffled to find it in the original volume. So I'm going to include the quote, as I have it written down, and if any of my readers happen to stumble across the source, I would be very grateful to hear from you! The quote is this:
". . . [you] will learn all the wide difference between 'doing what we like, and liking what we do,' the first being the most unwholesome, the second the most wholesome state for human nature."
Whoever is responsible for this observation, it holds a great deal of truth. It is very helpful to recognise that we aren't always able to do what we like. Sometimes schoolwork comes even when we don't like to do it. But as we learn the secret of doing all things "heartily, as to the Lord," (Colossians 3:23) we discover the true and highest secret of "liking what we do."
Succeeding When Your Student Hates School
I don't feel qualified to offer authoritative advice when it comes to the details "fixing the problem" when your student hates school. Those of you who do have individual tips and techniques to share, we'd love to hear from you in the comments section below!
But I feel very confident in encouraging every homeschooling teacher that there is absolutely no reason to despair because your student hates school.
You are doing a wonderful job as a homeschooling parent!
Keep on with your good work, even on the days when your student hates school.
Does your student enjoy school fairly well on the whole, but struggles with hating a particular subject? The following links will take you to the previous posts in this series: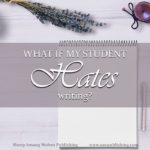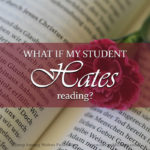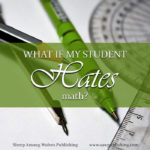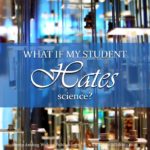 You might also enjoy: