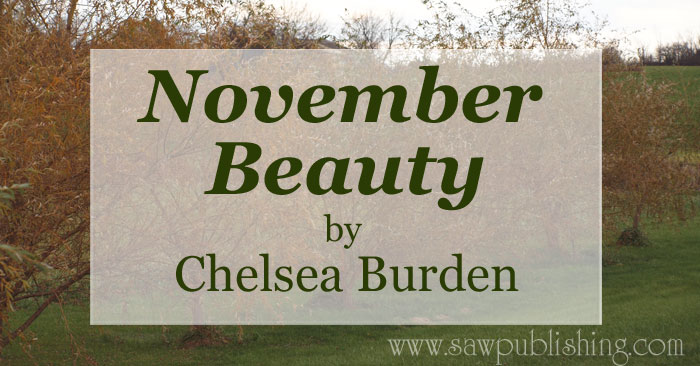 It is a remarkable phenomena in ordinary life, that the perspective through which we view something can so drastically change our impressions of it.  Whether the subject is an orange, the weather, or the Eiffel Tower, so many more things go into our perception of it than merely what our eyes see.  The way it was presented to us, the contrast with what we see as normal, and even the abstract mood we were in when we made contact with it, all combine to bias our perception of its attributes.
And it goes into writing too.  I may have a different opinion from yours on, say, a chickadee on a cold winter morning.  Perhaps you think it a melancholy sight, reminding you of all the birds which have flown south, and pity the poor chickadee for being out there in the cold, and wonder at his merry song.  Perhaps the heat isn't high enough in your house, and you feel a little chilly, or you had a bad night and are inclined to be gloomy.  On the other hand, suppose I liked the cold, and thought of how brave and happy the plucky little bird was, singing his cheery song in the midst of cold winter, when all the other birds had gone south.  In fact, I did begin a piece on that subject, and I just might finish it sometime.
The poem which I am featuring in this post, is one which I wrote almost exactly two years ago, in the heart of dreary November.  The willow trees on our property were brown and gloomy, the cattails which border the creek were dead and snapped in many places, the sky was overcast with grey clouds, and all-in-all there was little to please the eye in the surroundings.  I could have written a melodramatic poem which dolefully contrasted the gloom of today with the brightness of days past.  Believe me, I have it in me to write just that kind of poem.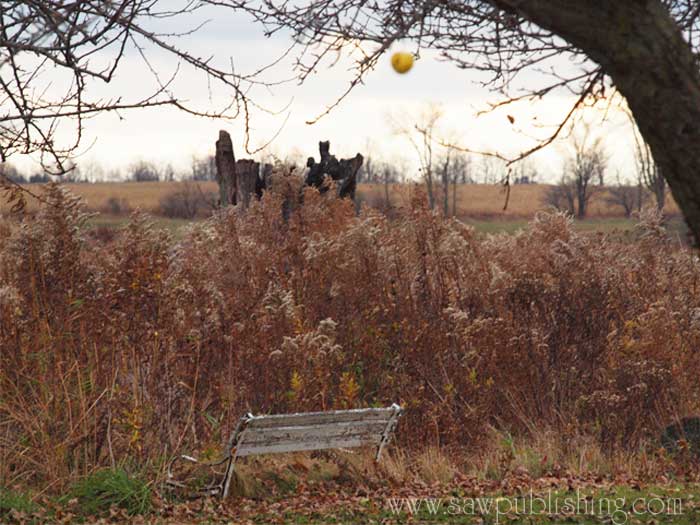 But I didn't.  Why not, you ask?  Why did I choose to write on just about the opposite, a subject that most of us, at times myself included, thought somewhat of a contradiction?  Why did I choose to title my poem "November Beauty?"
The answer is simple enough.  I was in a good mood.  I had just finished reading a novel which I had enjoyed, which had a satisfactory ending that left me wishing for more, and I was happy.  I went outside because I felt exhilarated and wanted to find a vent for my feelings.  And it was my frame of mind which allowed me to see the whole scene differently than I would have in another mood.  My surroundings were exactly the same, but the bias through which I viewed them was totally different.
And in the overflow of a heart which really had nothing in common with the dreariness of November, I wrote this poem.

November Beauty
My heart is full, my spirit light,
And all the things which meet my sight
Are turned to bright, expectant joy
Which cloud and rain cannot destroy.
The chilling breeze, the barren land
Are made by joy's exultant hand
More sweet than fragrant spring to me,
Because with gladdened eyes I see.
The deadened stocks of withered grass
Breathe peace and comfort as I pass,
Because with thankful heart I trace
In them the One who lends them grace.
The dreary clouds, the leafless trees
Are beauty when through joy one sees;
For does not life from deadness spring
With Him Who is of life the King?
And with this thought I cannot mourn
The vanished grace which leaves adorn,
For bleak November's breath is May
When God in all we would display!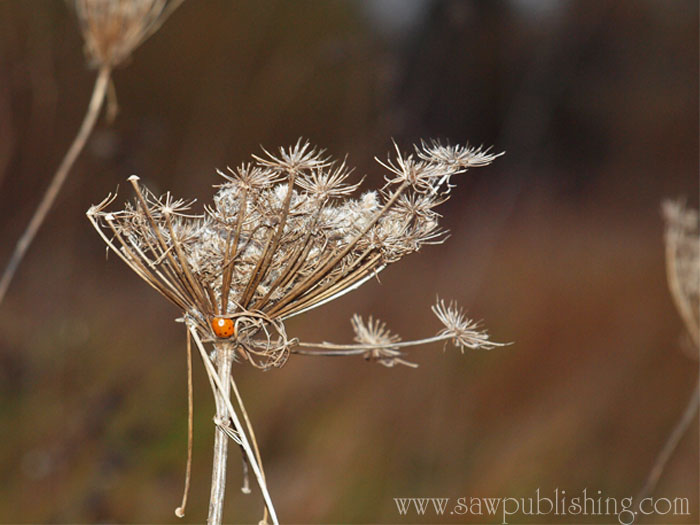 I think if we paid more attention to how much our perspective affects what we see, we would have to acknowledge that a lot of the time bad things aren't really bad, if we can only find the right way to look at them.  November isn't bleak at all by itself.  It just is.  It is only the gloomiest month in the whole calendar year because of comparison with all the rest.  Really, it shouldn't be gloomy in the slightest.  It should remind us of the fact that God has promised that the seasons will always continue in their cycle until time shall be no more.  It should make plain to us the blessings we have had before, by the contrast of their absence.  And most of all, I think it should remind us that hearts as grateful and happy as ours ought to be, will see absolutely everything which comes their way as a blessing.  It should remind us that "bleak November's breath is May, when God in all we would display!"