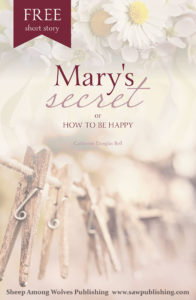 Catherine Douglas Bell
Left as an orphan in the care of a bustling, short-tempered aunt, young Mary Drummond feels heartbroken to think that she has not even a fragment of leisure to devote to the Master's service. Aunt Sally keeps Mary busy "from morning to night" in the exhausting attempt to care for five small children and preserve her house in spotless order at the same time.
"There are so many other things I'd like to do for God," Mary mourns. "And Aunt Sally says she can't spare me. If I am to be kept toiling and slaving the whole day long, how can I do service for God?"
But blind Annie takes a different view of the matter. Will Mary prove the truth of her old friend's secret? Or is Annie mistaken when she declares that Mary still has a precious opportunity to work for the Lord?
Mary's Secret is the fourth story in SAW Publishing's ongoing series of remastered historical tales.