Footprints In The Snow
I wandered forth across the snow
And listened to the crunch below;
Some thirty feet I went, I know,
And then I glanced around;
And from the place where lay my tread
The footprints wound a silver thread,
The only link from thence I led—
A pathway on the ground.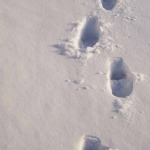 They shadowed me where'er I strode,
A thin but all persistent road,
My wand'ring foot too plainly showed
Had any wished to see;
And crisp and white the footprints lay
As slowly waned the fading day,
And once intense and golden ray
Shone up the path to me.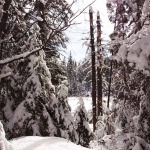 And so I thought, our paths of Life
May wander on through joy or strife,
With endless good or evil rife,
For all to trace the track;
And though it much regretted be,
As prints which marked the snow for me,
No choice we make that others see
Can e'er be taken back.
                                         – Chelsea Burden
© Chelsea Burden and www.sawpublishing.com, 2014. Unauthorized use and/or duplication of this material without express and written permission this site's author and/or owner is strictly prohibited.