5 Reasons Why "Writing On Sand" Is One of The Best Poems In Its Class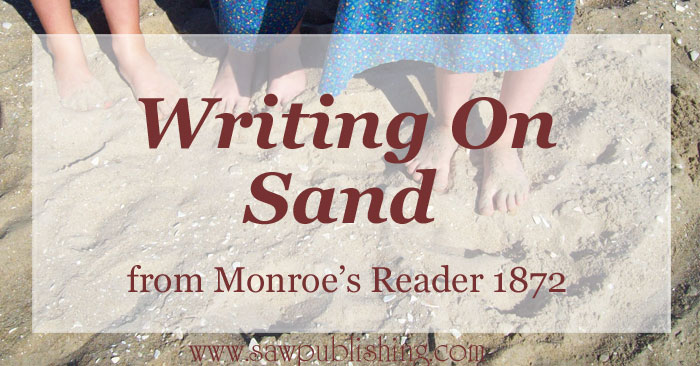 "Train up a child in the way he should go: and when he is old, he will not depart from it." – Proverbs 22:6
If we believe that the things we teach our children today are what they will "not depart from" when they are old, then we have to believe that the content of that teaching matters.  We have to believe that the standards formed in childhood are the measuring sticks for the rest of our lives.
Children form their opinions of reality on the things they read, whether poetry or prose.  And this is why I believe that so-called "School Reader Poetry" may in fact be one of the most important, as it is one of the most overlooked classes of poetry.  This is not because it ranks among the greatest of poetical works ever, but rather because its merits or defects form the starting point for our children's appreciation and knowledge of poetry.
The poetry we learn when we are beginning to read poems, will either kindle in us a desire and appreciation for the right kind of poetry, or weaken and trivialize our impressions of it.
The poem in this post is originally from "Monroe's Reader" published in 1872, and later reprinted in a set of Mennonite readers, where I first found it.  Here are five things which make it one of the best of its class.
1. Simple But not Simplistic
A great mistake often made in children's poetry is over-simplification.  If we are trying to help our children grow and expand their ideas and vocabulary, we want to be continually stretching their capacity.  Simple poetry, with a few new thoughts or words can do this, where simplistic or sing-song poetry tends only to keep our children at the same level.  This poem, "Writing on Sand" is a good example of being simple but not simplistic.  The ideas and thoughts are clarified and simplified for children, but not to the point of being weakened or made silly.
2. A Lesson Which is Straightforward but Thought-Provoking
The idea of walking on the beach and writing such an everyday thing as our name and the date, is something which children can easily relate to and picture.  But drawn from this commonplace idea is a thought-provoking message which reminds us of what ultimately matters.  By comparing the invisible eternal lesson with the imagery which we can all relate to, it allows children to think about our standing with God in a new light.  A commonplace occurrence paralleled with a simple moral is a great thing in school reader poetry, because it gives a decided point to the poem without making it too philosophical for children to understand.
3. Impeccable Rhyme and Metre
Another critical point in children's poetry is that the rhyme and metre should be just about perfect.  If children learn that awkward flow and not-quite rhyme are okay in the poems they are familiar with, it will weaken their ideas of what is good poetry.  On the contrary, when the metre and rhyme are sound and flowing, they will learn to settle for nothing but the highest quality.  If you notice in the following poem, every single rhyme is a perfect match of its rhyming word or words, and each line is a consistent length and rhythm, without a single exception.  This also makes it much easier for children to read than a poem which is awkward or inconsistent in its metre.  The lines simply flow as they are intended without any thought on the part of the reader, which is an essential sign of great poetry.
4. Language which Stretches the Vocabulary
Children's vocabularies are continually growing and expanding, as they discover new words and new ways of using old words.  This poem includes some words and phrases which may not be familiar to all children, but without becoming daunting or bewildering to them.  A few words may need explanation to some children, but that isn't a bad thing at all, and in fact is necessary to expanding anyone's vocabulary.
5. A Poem We Never Grow Out Of
And lastly, something which is an infinite charm to a piece like this, it is a poem we never grow too old to appreciate.  It may not be as complex as some poems we encounter later in life, but it never sinks below our ability to appreciate.  The perfect flow, the elegance of its simplicity, the cadence, and the lesson are all attributes which make it beloved even once we have seen and experienced greater.  It's not a poem we are disappointed to read again once we've outgrown so many of the paragons of our childhood, because there is something innate in it which makes it good poetry.
Writing On Sand
Alone I walked the ocean strand;
A pearly shell was in my hand.
I stooped and wrote upon the sand
My name, the year, the day.
As onward from the spot I passed,
One lingering look behind I cast—
A wave came rolling high and fast,
And washed my lines away.
And so, methought, 'twill shortly be
With every trace on earth of me:
A wave from dark oblivion's sea
Will roll across the place
Where I have trod the sandy shore
Of time, and been, to be no more—
Of me, my day, the name I bore,
To leave nor track nor trace.
And yet with Him who counts the sands
And holds the waters in His hands,
I know a lasting record stands
Inscribed against my name,
Of all this mortal part hath wrought,
Of all this thinking soul hath thought,
And from these fleeting moments caught
For glory or for shame.
The poems we read in childhood, besides forming our opinion of poetry for life, will also have their part to play in that "lasting record" inscribed against every one of us.  The goodness of these poems may influence our eternal outcome by teaching us to seek the right and shun the evil, to hold fast to that which is good, that when that lasting record is complete it may have much of glory and nothing of shame.