Four Reasons to Teach Your Children Hymns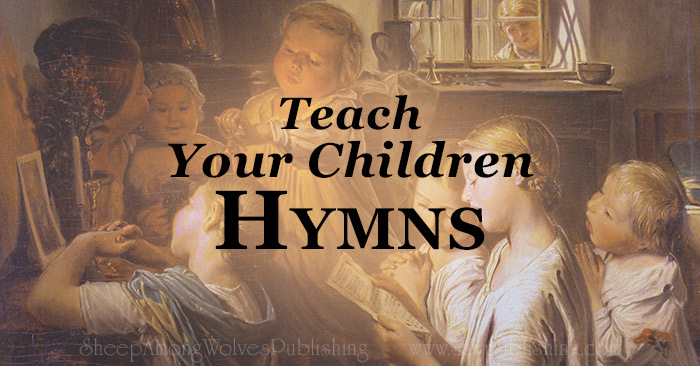 When I say, "hymns for children," which ones come to your mind?
"Jesus Loves Me, This I Know," was the first that popped into my head.  I don't believe that I've actually sung that hymn in years, but when I started thinking about it, I was able to remember three and a half of the four verses from memory.
What you learn in childhood sticks with you for the rest of your life.  Think about the alphabet song.  You never practice that one any more, but you have the alphabet right ready on the tip of your tongue whenever you need it.
The Golden Opportunity
Isaac Watts (1674–1748) recognised the impact which early teaching has on the rest of our lives.  In the preface to his 1715 Divine Songs, Attempted in the Easy Language of Children, Watts sent out a call for "all that are concerned in the Education of Children," to realize the power which they exercise over the little ones under their care:
"It is an awful and important charge that is committed to you.  The wisdom and welfare of the succeeding generation are intrusted with you beforehand, and depend much on your conduct.  The seeds of misery or happiness in this world, and that to come, are oftentimes sown very early, and therefore whatever may conduce to give the minds of children a relish for vertue [sic] and religion, ought in the first place to be proposed to you."
Isaac Watts' Four Reasons to Teach Your Children Hymns
Isaac Watts felt strongly that hymns should play an important part in Christian education.  He put forward four reasons to support his belief:
1. Children Enjoy Being Taught by Hymns
"There is a greater delight in the very learning of truths and duties this way.  There is something so amusing and entertaining in rhymes and metre, that will incline children to make this part of their business a diversion.  And you may turn their very duty into a reward, by giving them the privilege of learning one of these songs every week, if they fulfil the business of the week well, and promising them the book itself when they have learned ten or twenty songs out of it."
2. Children Memorize Poetry More Easily Than Prose
"What is learnt in verse is longer retained in memory, and sooner recollected.  The like sounds and the like number of syllables exceedingly assist the remembrance.  And it may often happen, that the end of a song running in the mind may be an effectual means to keep off some temptation, or to incline to some duty, when a word of scripture is not upon their thoughts."
3. Children Need Wholesome Food for Their Thoughts
"This will be a constant furniture for the minds of children, that they may have something to think upon when alone, and sing over to themselves.  This may sometimes give their thoughts a divine turn, and raise a young meditation.  Thus they will not be forced to seek relief for an emptiness of mind out of the loose and dangerous sonnets of the age."
4. Children Can Worship Through Hymns
"These Divine Songs may be a pleasant and proper matter for their daily or weekly worship, to sing one in the family at such time as the parents or governors shall appoint; and therefore I have confin'd the verse to the most usual psalm tunes."

The Hymns Watts Wrote
Three hundred and two years have elapsed since Divine Songs made its original appearance.  Only the tiniest handful of children's literature written before the year 1800 is still in use today.  It is truly remarkable that selections from this book—most notably the classic hymn "I Sing The Mighty Power of God"—have retained their popularity into the 21st century.
That being said, those three hundred years have changed our perspective on children's literature.  Divine Songs is not a book you would necessarily want to put into your children's hands without proofreading.
It is written with a social, nationalistic and religious bias which might be offensive to the modern reader.
A large number of hymns contain references to subjects such as sin, human suffering, death, and hell, which would be disturbing to many children. (This issue extends to the illustrations in many editions.  Our link above goes through to an online edition which contains the text only, so the problem is avoided here.)
There is a definite theme of "be good so you can go to heaven."
Notwithstanding these facts, Divine Songs contains some priceless nuggets.
The vocabulary is broad, making these hymns excellent for use in your school curriculum.
The hymns have real depth to them, and provide food for thought.
The Gospel is a foundational theme.
Biblical authority is upheld and promoted.
My advice to parents is this: follow the course of the majority of hymnal compliers, and select only the hymns and verses you want your children to learn.  "I Sing The Mighty Power of God" contains eight verses, but most hymnals take only the first five, with a modified sixth. (These six short verses are typically printed as three long ones, to fit the double meter tune.)  Six verses are plenty for a child, anyways.
If you want to tackle Divine Songs, be prepared to do some weeding.  But if you are willing to take the time and energy, you will be able to extract some very valuable material.
Passing on the Legacy of Hymns
This post wasn't meant to be a review of Divine Songs.
Whether you choose to use any of the pieces in his book or not, Watts' concern for the spiritual welfare of little ones, and his exhortation to make hymns a part of their education, is still relevant and powerful today.
As the introduction concludes:
"May the Almighty God make you faithful in this important work of education: may he succeed your cares with his abundant graces, that the rising generation . . . may be a glory amongst the nations, a pattern to the Christian world, and a blessing to the earth."
I would love to hear how you have integrated hymns into your children's education and lives.  If you have any tips to share, please contact me in the comments section below.
You might also enjoy: