Can You Teach A Love For Cooking? – Timeless Tip #10
Timeless Tips from Homemakers of the Past is an ongoing series highlighting useful and thought provoking tidbits from the generations of homemakers who have gone before us.  Our goal at Sheep Among Wolves is to provide a forum for Good and Great literature, and to help you in your quest for godly, high-quality resources.  It is our hope that these Timeless Tips will be an aid and encouragement to you as you strive to follow the example of Titus 2, and become a keeper of the home.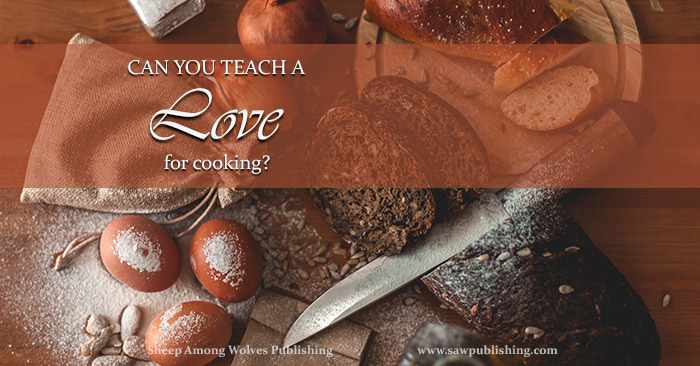 Can You Teach a Love for Cooking?
Last year I asked the question, "If you could only teach one school subject, what would it be?"  At the time, my answer was literature.  I still think that if we are talking about strictly academic studies, there are few subjects more important than reading.  But when I was writing my recent post on teaching handwork, I was almost tempted to change my opinion.  And as I prepared for today's Timeless Tip, I met with the same impulse.
Here is a better question.  If you couldn't teach any subjects at all, what would you do with your children's time?
Today's Timeless Tip, from Cookery For Little Girls by Olive Hyde Foster, is a challenge to rethink our priorities.  Standard school subjects are good.  But the greatest test of a lesson is how frequently we use it in later life.
Are Your Little Cooks Helpers or Hindrances?
Most moms can recognize the benefit they would have derived from more kitchen experience as children.  But facing the thought of having little hands "helping" with the meals can be overwhelming.  It would be good for the child, but do you have the energy to handle it?
"All children like to experiment in the kitchen, and instead of allowing them to become an annoyance, they should be so directed that their efforts will result in immediate help to the mother and prove invaluable life lessons to the little ones themselves."
Teaching a child will take an initial investment of time.  But as children learn to perform kitchen tasks dependably, their help can be a valuable assistance in your daily cooking tasks.
How Much Supervision Does a Young Cook Need?
Obviously the answer would vary from child to child.  Age, experience, even personality will influence the issue.  But learning to cook from a living person, instead of relying only on the directions of a cookbook, can make the learning curve much easier.
"Scarcely any child can be trusted to take a recipe and work alone, as the clearest directions need the watchful supervision of an experienced woman, who can detect the coming mistake and explain the reason for doing things in a certain way."
A twelve-year-old who has several years of experience might be able to make a simple meal on her own.  A five-year-old who has just donned an apron for the first time, will probably need a watchful eye, even when she's performing a very basic task.  But each time your little girl cooks, she will be a step closer to independence.
How Do You Minimize the Stress of Cooking with Children?
We can all picture the chaos of the once-a-year Christmas baking.  Little hands covered in flour, dirty dishes everywhere, and the gingerbread burning in the oven.  And we think, "How could I ever do this again before next December?"
But teaching cooking regularly doesn't need to be as stressful as the holiday baking spree.  In the first place, you only need to do one thing at a time.  (Whereas, who can bear to bake gingerbread without attempting shortcake, fruitcake, and chocolate muffins as well!)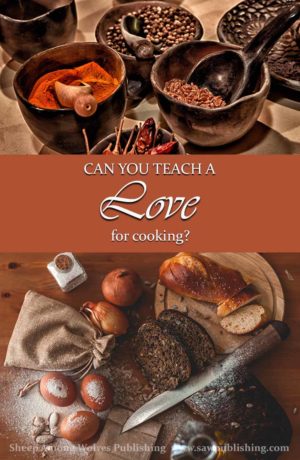 Use One Dish as a Base
This is a fabulous idea which Olive Foster suggests in more than one place.  A basic dish like cream soup can be varied by being cream of celery one day, cream of mushroom the next, and cream of potato the third.
"It is advisable for the mother to have the child make a certain cream soup twice in close succession to be sure that she thoroughly understands the process, and then make each of the other kinds soon after, so that she will get used to using up whatever left-overs she finds on hand."
The daughter feels like she has learned to make three different dishes (which she has), but she also develops a good grasp of the basics of a cream soup foundation.  Mom doesn't feel as stressed as if she had attempted to teach a new dish each time.  The child needs fewer directions, because she is already familiar with how the soup is made.  And everyone enjoys the variety.
"[Cream soups] are delicious, too, and something any bright girl could make while her mother got up the rest of the dinner.  They take the name of the kind of vegetable used, but all are put together in about the same way."
Take Time for the Little Things
It is amazing how refreshing it can be to take a moment to make something look nice.  We are so often in such a hurry.  It's easy to settle for just trying to put the food on the table in an edible form.  But a couple of extra seconds to make a meal look attractive will pay off the whole time you are eating.
"Such extras require but little time, yet they mark the experienced cook . . ."
Here are a few simple garnishes which are easy to keep on hand, and take less than a minute to put on:
parsley or celery leaves for meats, vegetables, and salads
croutons or sour cream for soups
bacon bits, or crumbled leftover bacon for potato dishes
lemon, parsley or watercress for fish
Most of these ideas come from Cookery For Little Girls, but a few are my own additions.  Even if you don't have time to add a garnish, encourage your daughters to take pleasure in setting the table as prettily as they can.  Little girls love to fold napkins, colour place cards, or fill a vase with wildflowers from the back yard.  These things are very easy and can be done independently by a young child.   Even if you don't have a cooking project for your little ones, these jobs allow them to be part of preparing the family meal.
Does Cooking Really Matter?
Cooking is an essential of life.  No matter what one's background, experience, or present circumstances are, cooking is a valuable skill.  As the author of this book pointed out, it is really sad when our girls find themselves women without knowing anything about preparing meals.
"And that young wife is blessed indeed who has been prepared for her duties in the home by a conscientious mother.  Therefore, let no woman think it too much trouble to teach her child the preparation of various kinds of food, impressing on her at the same time the dignity and importance of the work."
If you couldn't teach any school subjects at all, would your children still be learning?  Letting them work beside you will teach far more precious lessons than any textbook can give.  Not only for them, but also for you.
Unless otherwise referenced, the quotations in this article were taken from Cookery For Little Girls by Olive Hyde Foster.
If you are interested in more information on how to teach homemaking skills, take a look at: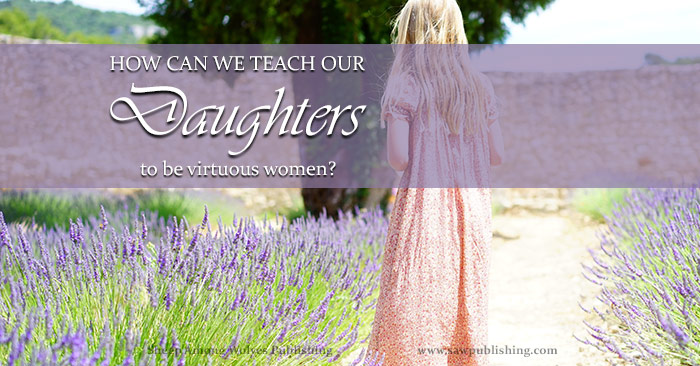 You might also enjoy:
This post may have been shared with the following linkups: The Art of Homemaking Mondays, Monday's Musings, The Modest Mom, Titus 2 Tuesday, Tuesdays With A Twist, Hip Homeschool Moms, Homemaking Wednesdays, Wise Woman Linkup, Coffee and Conversation.