Word of the Week Lesson #8 – ENDURE
SAW Publishing's Word of the Week (WOW) program is a vocabulary supplement built around hymns and Bible verses.  Each lesson contains a Webster's 1828 Dictionary definition, Scripture reference, and examples that encourage students to use new vocabulary in daily life.  To find out more about the program, see our post entitled Boost Your Student's Vocabulary with our FREE Word of the Week. To receive the FREE Word of the Week lesson the Monday before it is posted, sign up for the WOW email below.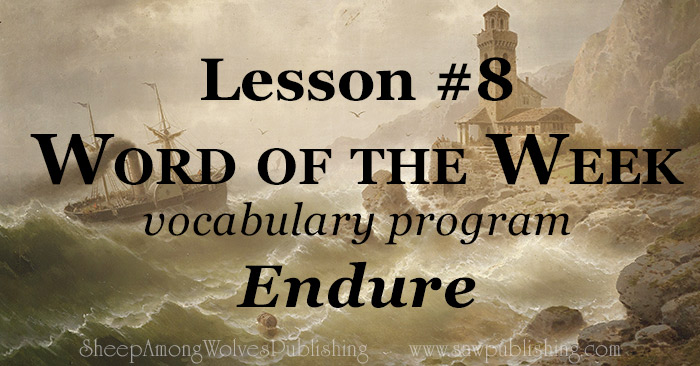 Word of the Week Lesson #8
**Click here for a downloadable PDF of the full lesson.
endure
Short Definition
Abridged from Webster's 1828 Dictionary
ENDU'RE, verb intransitive
to last; to continue; to bear patiently
Webster's 1828 Full Definition
ENDU'RE, verb intransitive
[Latin durus, duro.]
1. To last; to continue in the same state without perishing; to remain; to abide.
The Lord shall endure forever. Psalm 9:7.
He shall hold it [his house] fast, but it shall not endure. Job 8:15.
2. To bear; to brook; to suffer without resistance, or without yielding.
How can I endure to see the evil that shall come to my people? Esther 8:6.
Can thy heart endure or thy hands be strong? Ezekiel 22:14.
ENDU'RE, verb transitive
1. To bear; to sustain; to support without breaking or yielding to force of pressure.
Metals endure a certain degree of heat without melting.
2. To bear with patience; to bear without opposition or sinking under the pressure.
Therefore I endure all things for the elect's sakes, that they may also obtain the salvation which is in Christ Jesus with eternal glory. 2 Timothy 2:10.
If ye endure chastening, God dealeth with you as with sons. Hebrews 12:7.
3. To undergo; to sustain.
I wish to die, yet dare not death endure.
4. To continue in. [Not used.]
All definitions are taken from the Webster's 1828 Dictionary from Archive.org Volume 1 and Volume 2 and can also be found on Webster's 1828 Dictionary online
Memory Verse
"O give thanks unto the LORD, for he is good: for his mercy endureth for ever."  ~ Psalm 107:1 (KJV)
"But he that shall endure unto the end, the same shall be saved."  ~ Matthew 24:13 (KJV)
All scripture references are taken from the King James Bible
Hymn
"O enter then His gates with praise;
Approach with joy His courts unto;
Praise, laud, and bless His name always,
For it is seemly so to do.
For why? the Lord our God is good;
His mercy is for ever sure;
His truth at all times firmly stood,
And shall from age to age endure."
– William Kethe (?–1594), All People That On Earth Do Dwell (The Old Hundredth)
 All hymn texts are taken from Cyber Hymnal
Examples from Daily Life
"What a delightful week we've had," said Robyn as they packed up the tent.  "I can hardly endure the thought of going home."
"I expect we'll endure the thought," said Philip a bit mischievously.  "What I am concerned about is enduring all the portages on the way back!"
"The Park Ranger mentioned another route we could take," Mr. Gravesend remarked, as he consulted the map.  "It's a bit longer, but we'd be able to canoe the whole way.  If you think you can endure a long day of paddling, we can avoid the portages altogether."
Printable Image With Short Definition and Memory Verse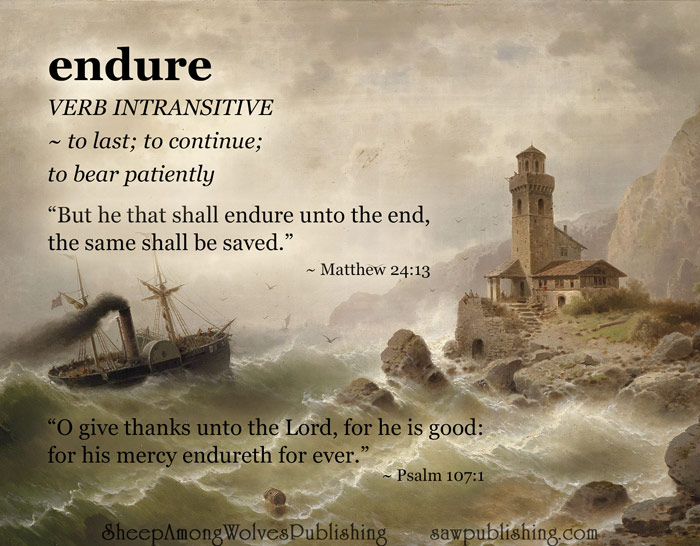 All images are created using public domain artwork and are available in high resolution for quality printing
Bonus Activity
Look at the Latin root listed in brackets at the beginning of the Webster's 1828 Definition of endure above.  Can you see a similarity between the word endure and the word durable?  Read the following definition of durable from Webster's 1828 Dictionary.
DURABLE, adjective
[Latin durabilis, from duro, to last; durus, hard.]
Having the quality of lasting or continuing long in being, without perishing or wearing out as durable timber; durable cloth; durable happiness.
Make a list of characteristics that describe both words.  A sample answer will be given at the end of next week's WOW lesson.
Sample Answer to Last Week's Bonus Activity
Stanza One—Proverbs 3:13.
Stanza Two—Proverbs 3:14 (and possibly 15).
Stanza Three—Proverbs 3:17 (and possibly 16/18).
How To Sign Up
Each week's WOW lesson will be available on the Sheep Among Wolves blog on Friday morning.
If you would prefer to receive the lessons by email, you can sign up below to have each new lesson delivered on the Monday before it's posted.  This gives you time to print out the sheet, and have it ready for the next week, as well as making sure you don't miss any posts.  Email signup will include a high resolution copy of the image for those who wish to print it out in poster form.  Concerned that you have missed the start of our program?  Don't worry, all emails contain links to previous lessons.  No matter when you sign up, you will receive access to all lessons from the Word of the Week program.
This post may have been shared with the following linkups: The Art of Homemaking Mondays, Monday's Musings, What Joy is Mine, The Modest Mom, Homemaking Wednesdays, Wise Woman Linkup.
You might also like: