Word of the Week Lesson #34 – LOFTY
SAW Publishing's Word of the Week (WOW) program is a vocabulary supplement built around hymns and Bible verses.  Each lesson contains a Webster's 1828 Dictionary definition, Scripture reference, and examples that encourage students to use new vocabulary in daily life.  To find out more about the program, see our post entitled Boost Your Student's Vocabulary with our FREE Word of the Week. To receive the FREE Word of the Week lesson the Monday before it is posted, sign up for the WOW email below.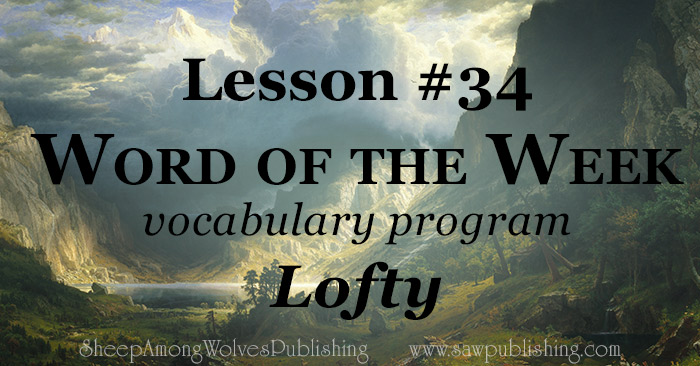 Word of the Week Lesson #34
**Click here for a downloadable PDF of the full lesson.
lofty
Short Definition
Abridged from Webster's 1828 Dictionary
LOFT'Y, adjective
elevated; high
Webster's 1828 Full Definition
LOFT'Y, adjective
1. Elevated in place; high; as a lofty tower; a lofty mountain. [But it expresses more than high, or at least is more emphatical, poetical and elegant.]
See lofty Lebanon his head advance.  Pope.
2. Elevated in condition or character.
Thus saith the high and lofty One, that inhabiteth eternity, whose name is Holy – Isaiah 57:15
3. Proud; haughty; as lofty looks. Isaiah 2:11
4. Elevated in sentiment or diction; sublime; as lofty strains; lofty rhyme.  Milton.
5. Stately; dignified; as lofty steps.
All definitions are taken from the Webster's 1828 Dictionary from Archive.org Volume 1 and Volume 2 and can also be found on Webster's 1828 Dictionary online
Memory Verses
"For thus saith the high and lofty One that inhabiteth eternity, whose name is Holy; I dwell in the high and holy place, with him also that is of a contrite and humble spirit, to revive the spirit of the humble, and to revive the heart of the contrite ones."  ~ Isaiah 57:15 (KJV)
"LORD, my heart is not haughty, nor mine eyes lofty: neither do I exercise myself in great matters, or in things too high for me."  ~ Psalm 131:1 (KJV)
All scripture references are taken from the King James Bible
Hymn
"I sing the mighty power of God,
That made the mountains rise,
That spread the flowing seas abroad,
And built the lofty skies.
I sing the wisdom that ordained
The sun to rule the day;
The moon shines full at God's command,
And all the stars obey."
– Isaac Watts (1674–1748), I Sing the Mighty Power of God
All hymn texts are taken from Cyber Hymnal
Examples From Daily Life
As the Gravesends drew closer to the point, the ground began to rise.
"That is a pretty lofty lookout," said Philip, "Do we get to hike all the way to the top?"
"We don't need to, for Xavier's surprise," said Mr. Gravesend.  "But we can, if you would enjoy the view.  Be careful, Robyn," he added suddenly, "The rocks are pretty slippery on that side."
"I'll be careful," Robyn assured him confidently.
"Can you see that eagle?" Philip said.  "What a lofty view it must have from up there!"
"I can't see it," said Robyn, craning her neck to peer around the rocks.  "Oh, now I do.  It looks like a—"
SPLASH!
Robyn lost her footing, and tumbled right into the water.
"OH, NO!" Robyn cried, surveying her wet clothes with dismay.  "I wish I hadn't had such a lofty opinion of my own judgement!  If I hadn't been climbing on those slippery rocks, I wouldn't have landed up in the water."
"At least you weren't wearing your pink socks," Philip teased.  "And at least you didn't get hurt," he added more seriously.  "But I hope Xavier's surprise isn't something that requires dry clothes!"
Printable Image with Short Definition and Memory Verse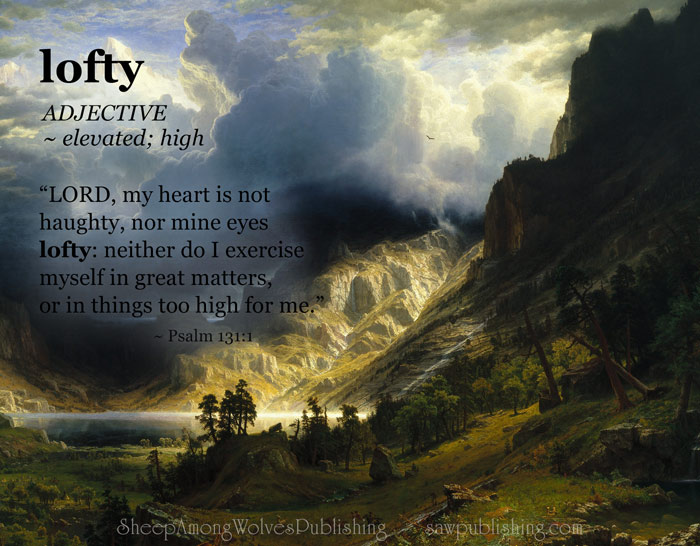 Bonus Activities
1) Today's hymn talks about God's mighty power.  Isaac Watts saw God's power displayed all around him, because he realized that God had created all the wonders of nature.
How many different natural phenomena does he list as evidence of God's power, in the verse above?
2) Did you notice a previous WOW word in one of our memory verses?  It occurs not once, but twice!  See if you can spot it without looking back at the previous lessons.
The answers to both Bonus Activities will appear at the bottom of next week's WOW lesson.
Answer To Last Week's Bonus Activity 
Water going over a waterfall – continual
Heaven – eternal
The moon orbiting the earth – continual
The wheels on a car – continual
Our souls – eternal
God's Word – eternal
The four seasons – continual
How To Sign Up
Each week's WOW lesson will be available on the Sheep Among Wolves blog on Friday morning.
If you would prefer to receive the lessons by email, you can sign up below to have each new lesson delivered on the Monday before it's posted.  This gives you time to print out the sheet, and have it ready for the next week, as well as making sure you don't miss any posts.  Email signup will include a high resolution copy of the image for those who wish to print it out in poster form.  Concerned that you have missed the start of our program?  Don't worry, all emails contain links to previous lessons.  No matter when you sign up, you will receive access to all lessons from the Word of the Week program.