Word of the Week Lesson #29 – ACCEPT
SAW Publishing's Word of the Week (WOW) program is a vocabulary supplement built around hymns and Bible verses.  Each lesson contains a Webster's 1828 Dictionary definition, Scripture reference, and examples that encourage students to use new vocabulary in daily life.  To find out more about the program, see our post entitled Boost Your Student's Vocabulary with our FREE Word of the Week. To receive the FREE Word of the Week lesson the Monday before it is posted, sign up for the WOW email below.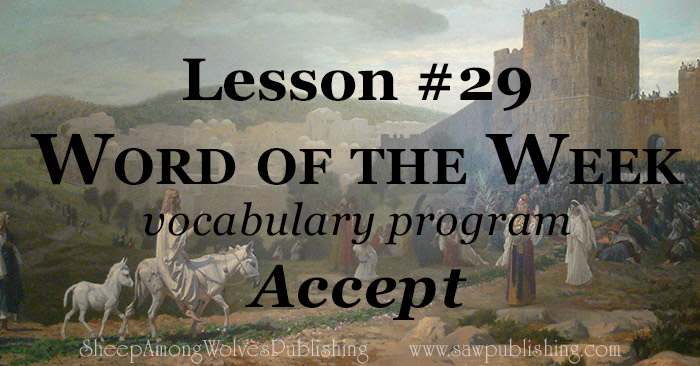 Word of the Week Lesson #29
**Click here for a downloadable PDF of the full lesson.
accept
Short Definition
Abridged from Webster's 1828 Dictionary
ACCEPT', verb transitive
to take or receive what is offered, with a consenting mind
Webster's 1828 Full Definition
ACCEPT', verb transitive
[L. accepto, from accipio, ad and capio, to take; Fr. accepter; Sp. aceptar; Port. aceiter; It. accettare.  See Lat. capio.  Class G. b.]
1. To take or receive what is offered, with a consenting mind; to receive with approbation or favor.
Bless, Lord, his substance, and accept the work of his hands.  Deuteronomy 33:11
He made an offer which was accepted.
Observe the difference between receive and accept.
He received an appointment or the offer of a commission, but he did not accept it.
2. To regard with partiality; to value or esteem.
It is not good to accept the person of the wicked.  Proverbs 18:5
In theology, acceptance with God implies forgiveness of sins and reception into his favor.
3. To consent or agree to; to receive as terms of a contract; as, to accept a treaty; often followed by of.
Accept of the terms.
4. To understand; to have a particular idea of; to receive in a particular sense.
How is this phrase to be accepted?
5. In commerce, to agree or promise to pay, as a bill of exchange. [See Acceptance.]
All definitions are taken from the Webster's 1828 Dictionary from Archive.org Volume 1 and Volume 2 and can also be found on Webster's 1828 Dictionary online
Memory Verse
"Accept, I beseech thee, the freewill offerings of my mouth, O LORD, and teach me thy judgments."  ~ Psalm119:108 (KJV)
All scripture references are taken from the King James Bible
Hymn
"All glory, laud and honour,
To Thee, Redeemer, King,
To whom the lips of children
Made sweet hosannas ring.
Thou didst accept their praises;
Accept the prayers we bring,
Who in all good delightest,
Thou good and gracious King."
– Theodulph of Orléans (760–821), trans. John M. Neale (1818–1866), All Glory, Laud and Honour
All hymn texts are taken from Cyber Hymnal
Examples from Daily Life
"I'm finding it hard to accept disappointments, today," Robyn confessed to Philip, one sunny April morning.  "It seems like everything is going wrong.  I helped Mom with breakfast, but I burned four pancakes.  I spilled maple syrup on the new tea towel.  And Grandma called to say she can't take us shopping this afternoon, because she has the stomach flu!"
"That's too bad," Philip agreed.  "Still, I think the disappointment is easier for us to accept than for Grandma.  Because she has to feel sick and stay at home."
"But you're not going to stay at home," Mr. Gravesend said, looking up from the book he had been reading.  "I'm going to take both of you to Angle's Cove, to pick up a surprise for Xavier's birthday."
Robyn's eyes lit up.  A surprise for her younger brother's birthday would be just as much fun as shopping.  If only Grandma could enjoy it too!
"What's the surprise?" Philip asked.
"You'll have to wait and see," Mr. Gravesend told them mysteriously.  "I'd like to leave around eleven.  We have to run to the bank first, because Angle's Cove only accepts cash."
Printable Image with Short Definition and Memory Verse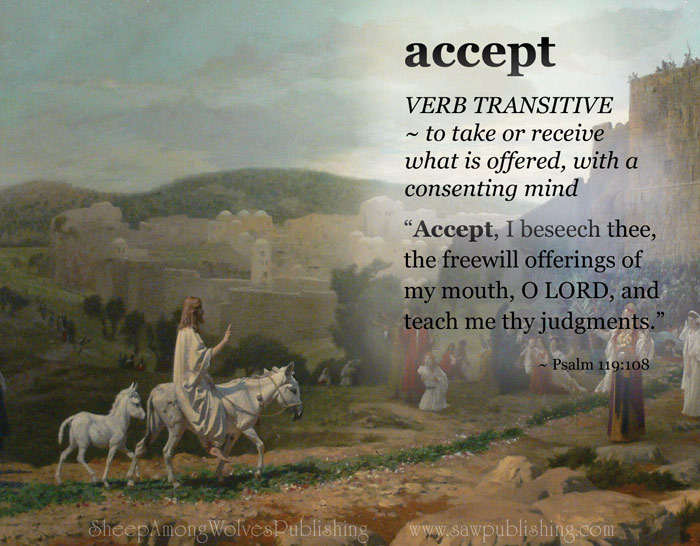 Bonus Activity
Today's hymn talks about little children singing hosanna to Christ.  This is an allusion to a scripture passage which says:
"And when the chief priests and scribes saw the wonderful things that he did, and the children crying in the temple, and saying, Hosanna to the Son of David; they were sore displeased,
And said unto him [Jesus], Hearest thou what these say? And Jesus saith unto them, Yea; have ye never read, Out of the mouth of babes and sucklings thou hast perfected praise?"
What scripture passage have I quoted?
Today's Bonus Activity is a concordance challenge to discover where these two verse are found.
To use a concordance, pick a word which occurs in the passage you are trying to locate.  You will find that the front section of the concordance is similar to a dictionary—all the words are listed in alphabetical order.  The scripture references underneath each word show you all the verses where that word occurs.  Look up the different references until you find the passage quoted above.
Hint: you will find it easier if you pick a word that is not used often in the Bible.
If you do not have access to a concordance, you may use a search engine, such as the one found on King James Bible Online.  But in order to learn how a concordance works, make sure you only search one word at a time!
The correct reference will appear at the bottom of next week's WOW lesson.
How To Sign Up
Each week's WOW lesson will be available on the Sheep Among Wolves blog on Friday morning.
If you would prefer to receive the lessons by email, you can sign up below to have each new lesson delivered on the Monday before it's posted.  This gives you time to print out the sheet, and have it ready for the next week, as well as making sure you don't miss any posts.  Email signup will include a high resolution copy of the image for those who wish to print it out in poster form.  Concerned that you have missed the start of our program?  Don't worry, all emails contain links to previous lessons.  No matter when you sign up, you will receive access to all lessons from the Word of the Week program.