Word of the Week Lesson #24 – PECULIAR
SAW Publishing's Word of the Week (WOW) program is a vocabulary supplement built around hymns and Bible verses.  Each lesson contains a Webster's 1828 Dictionary definition, Scripture reference, and examples that encourage students to use new vocabulary in daily life.  To find out more about the program, see our post entitled Boost Your Student's Vocabulary with our FREE Word of the Week. To receive the FREE Word of the Week lesson the Monday before it is posted, sign up for the WOW email below.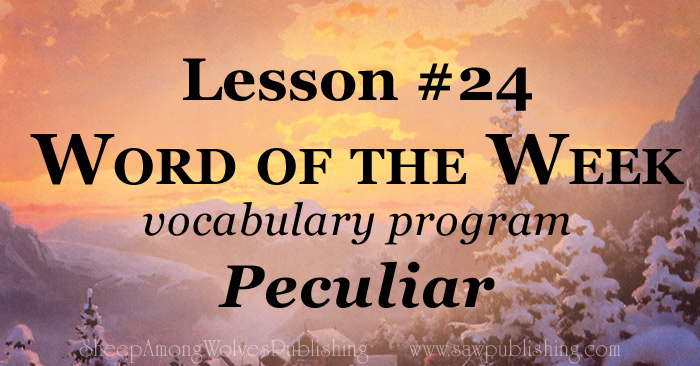 Word of the Week Lesson #24
**Click here for a downloadable PDF of the full lesson.
peculiar
Short Definition
Abridged from Webster's 1828 Dictionary
PECU'LIAR, adjective
belonging to a person and to him only; unusual; special
Webster's 1828 Full Definition
PECU'LIAR, adjective
[L. peculiaris, from peculium, one's own property, from pecus, cattle.]
1. Appropriate; belonging to a person and to him only. Almost every writer has a peculiar style. Most men have manners peculiar to themselves.
2. Singular (unusual, rare, odd); particular. The man has something peculiar in his deportment.
3. Particular; special.
My fate is Juno's most peculiar care.  Dryden.
[Most cannot, in strict propriety, be prefixed to peculiar, but it is used to give emphasis to the word.]
4. Belonging to a nation, system or other thing, and not to others.
PECU'LIAR noun
1. Exclusive property; that which belongs to a person in exclusion of others.  Milton.
2. In the canon law, a particular parish or church which has the probate of wills within itself, exempt from the jurisdiction of the ordinary or bishop's court.  Encyc.
Court of peculiars, in England, is a branch of the court of arches.  It has jurisdiction over all the parishes dispersed through the province of Canterbury, in the midst of other dioceses, which are exempt from the ordinary jurisdiction, and subject to the metropolitan only.  Blackstone.
All definitions are taken from the Webster's 1828 Dictionary from Archive.org Volume 1 and Volume 2 and can also be found on Webster's 1828 Dictionary online
Memory Verse
"But ye are a chosen generation, a royal priesthood, an holy nation, a peculiar people; that ye should shew forth the praises of him who hath called you out of darkness into his marvellous light:" ~ 1 Peter 2:9 (KJV)
All scripture references are taken from the King James Bible
Hymn
"Let every creature rise and bring
Peculiar honours to our King;
Angels descend with songs again,
And earth repeat the loud amen!"
– Isaac Watts (1674–1748), Jesus Shall Reign
All hymn texts are taken from Cyber Hymnal
Examples From Daily Life
"Well, Philip, I don't know whether bleach would take away the pencil lines," Mrs. Gravesend said.  "But unfortunately, we can't try it, because bleach would leave a peculiar white mark of its own."
"I know!" said Robyn suddenly.  "We can use an old eraser end!"
"An old eraser end?" her mother repeated.  "Where would you get one?  Most people throw their old erasers in the garbage."
Robyn looked at Philip, and they both laughed.
"Old erasers are Philip's peculiar property," Robyn explained.  "He has got six or seven of them in his pencil box."
"I thought they might come in handy," said Philip.  He fetched the box, and set to work on a particularly obstinate scribble.  "Perfect," he declared, turning the eraser so that he could use a longer edge.  "Oh, no!" he cried the next moment, "This is very peculiar, Mom!  The eraser is leaving a line on the table—and it's green!!!"
Printable Image With Short Definition and Memory Verse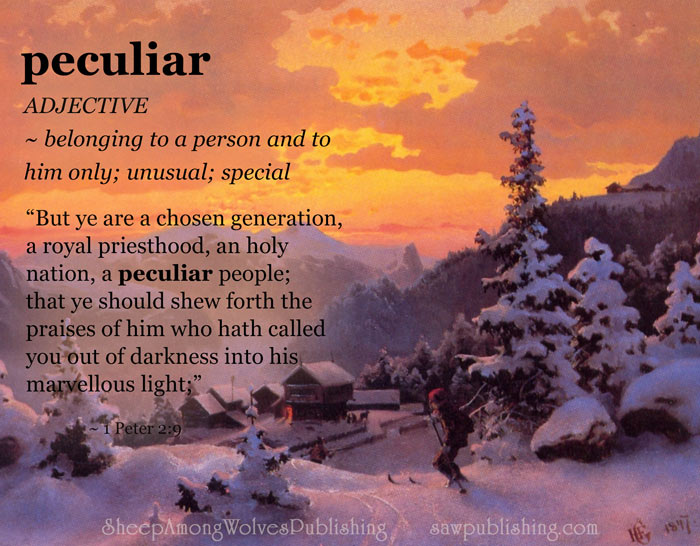 Bonus Activity
Perplexed and peculiar are similar-sounding words.  It can be easy to get them confused.  Copy out these two rhymes to help you remember the difference:
 When you're feeling quite perplexed,
You are asking "What is next?"
When a thing is strange to you,
Then peculiar will do.
Tip: Try using a different coloured pen or marker for each rhyme.  Having a visual clue can help you to keep the two words separate in your mind.
Sample Answer To Last Week's Bonus Activity 
Student answers may vary slightly, depending on how the verse is divided.  It contains six or seven different blessings, which the author asks God to grant:
That He would be near us through all our life
That He would cheer us with joyful hearts
That He would cheer us with blessed peace
That He would keep us in His grace
That He would guide us when perplexed
That He would free us from all ills in this world
That He would free us from all ills in the next world
Note: Numbers six and seven may easily be combined into one.
How To Sign Up
Each week's WOW lesson will be available on the Sheep Among Wolves blog on Friday morning.
If you would prefer to receive the lessons by email, you can sign up below to have each new lesson delivered on the Monday before it's posted.  This gives you time to print out the sheet, and have it ready for the next week, as well as making sure you don't miss any posts.  Email signup will include a high resolution copy of the image for those who wish to print it out in poster form.  Concerned that you have missed the start of our program?  Don't worry, all emails contain links to previous lessons.  No matter when you sign up, you will receive access to all lessons from the Word of the Week program.
You might also like: