Word of the Week Lesson #20 – ABOUND
SAW Publishing's Word of the Week (WOW) program is a vocabulary supplement built around hymns and Bible verses.  Each lesson contains a Webster's 1828 Dictionary definition, Scripture reference, and examples that encourage students to use new vocabulary in daily life.  To find out more about the program, see our post entitled Boost Your Student's Vocabulary with our FREE Word of the Week. To receive the FREE Word of the Week lesson the Monday before it is posted, sign up for the WOW email below.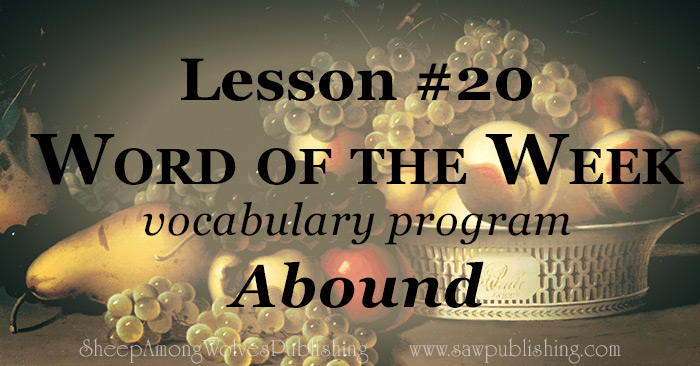 Word of the Week Lesson #20
**Click here for a downloadable PDF of the full lesson.
abound
Short Definition
Abridged from Webster's 1828 Dictionary
ABOUND, verb intransitive
to have or possess in great quantity
Webster's 1828 Full Definition
ABOUND, verb intransitive
[L. abundo; Fr. abonder; It. abbondare; Sp. abundar.  If this word is from L. unda, a wave, the latter has probably lost its first consonant.  Abound may naturally be deduced from the Celtic. Arm. fonn, plenty; fonna, to abound; W. fyniaw, to produce, to generate, to abound, from fwn, a source, the root of fynon, L. fons, a fountain.]
1. To have or possess in great quantity; to be copiously supplied; followed by with or in; as to abound with provisions; to abound in good things.
2. To be in great plenty; to be very prevalent.
Where sin abounded, grace did much more abound.  Romans 5:20
All definitions are taken from the Webster's 1828 Dictionary from Archive.org Volume 1 and Volume 2 and can also be found on Webster's 1828 Dictionary online
Memory Verse
"And God is able to make all grace abound toward you; that ye, always having all sufficiency in all things, may abound to every good work:" ~ 2 Corinthians 9:8 (KJV)
All scripture references are taken from the King James Bible
Hymn
"Then let our songs abound,
And every tear be dry;
We're marching through Immanuel's ground,
We're marching through Immanuel's ground,
To fairer worlds on high,
To fairer worlds on high."
Refrain:
"We're marching to Zion,
Beautiful, beautiful Zion;
We're marching upward to Zion,
The beautiful city of God."
– Isaac Watts (1674–1748), Marching To Zion
 All hymn texts are taken from Cyber Hymnal
Examples from Daily Life
"This math lesson certainly does abound in decimals," said Philip, gnawing the end of his pencil, while he considered a difficult problem.  "Oh, I forgot.  Dad said that chewing on pencils is a bad habit."
"That's right," Mom agreed.  "But the first step is remembering to stop.  If you are diligent about that, your good habits will soon abound."
"Oh, no!" said Robyn suddenly, glancing over at the little ones.  "Skye has not been colouring on the paper!  Our brand new coffee table now abounds with scribbles!"
Printable Image with Short Definition and Memory Verse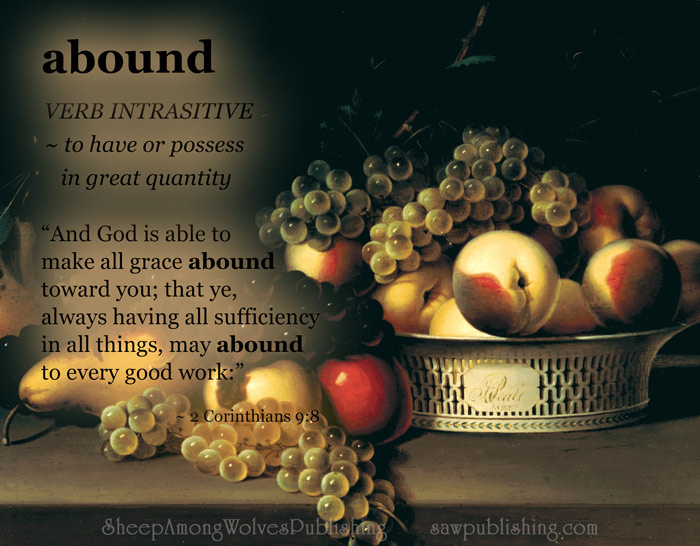 Bonus Activity
Today's memory verse contains a form of last week's WOW word.  Can you spot it?
The answer will appear at the bottom of next week's WOW lesson.
How To Sign Up
Each week's WOW lesson will be available on the Sheep Among Wolves blog on Friday morning.
If you would prefer to receive the lessons by email, you can sign up below to have each new lesson delivered on the Monday before it's posted.  This gives you time to print out the sheet, and have it ready for the next week, as well as making sure you don't miss any posts.  Email signup will include a high resolution copy of the image for those who wish to print it out in poster form.  Concerned that you have missed the start of our program?  Don't worry, all emails contain links to previous lessons.  No matter when you sign up, you will receive access to all lessons from the Word of the Week program.
This post may have been shared with the following linkups: The Art of Homemaking Mondays, What Joy is Mine, The Modest Mom, Homemaking Wednesdays, Wise Woman Linkup.
You might also like: