Word of the Week Lesson #12 – DILIGENCE
SAW Publishing's Word of the Week (WOW) program is a vocabulary supplement built around hymns and Bible verses.  Each lesson contains a Webster's 1828 Dictionary definition, Scripture reference, and examples that encourage students to use new vocabulary in daily life.  To find out more about the program, see our post entitled Boost Your Student's Vocabulary with our FREE Word of the Week. To receive the FREE Word of the Week lesson the Monday before it is posted, sign up for the WOW email below.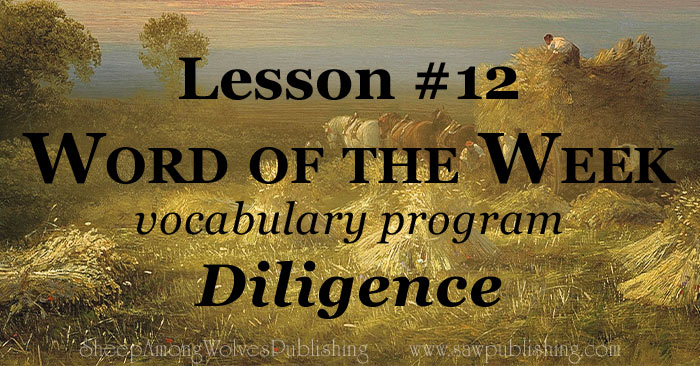 Word of the Week Lesson #12
**Click here for a downloadable PDF of the full lesson.
diligence
Short Definition
Abridged from Webster's 1828 Dictionary
DIL'IGENCE, noun
steady application in business of any kind; industry; carefulness
Webster's 1828 Full Definition
DIL'IGENCE, noun
[L. diligentia, from diligo, to love earnestly; di and lego, to choose.]
1. Steady application in business of any kind; constant effort to accomplish what is undertaken; exertion of body or mind without unnecessary delay or sloth; due attention; industry; assiduity.
Diligence is the philosopher's stone that turns every thing to gold.
Brethren, give diligence to make your calling and election sure.  2 Peter 1:10
2. Care; heed; heedfulness.
Keep thy heart with all diligence. Proverbs 4:23
3. The name of a stage-coach, used in France.
All definitions are taken from the Webster's 1828 Dictionary from Archive.org Volume 1 and Volume 2 and can also be found on Webster's 1828 Dictionary online
Memory Verse
"Keep thy heart with all diligence; for out of it are the issues of life."  ~ Proverbs 4:23 (KJV)
All scripture references are taken from the King James Bible
Hymn
"O let me run the Christian race
With diligence and speed!
God's word, His Spirit, and His grace,
Do all to duty lead."
Benjamin Beddome (1717–1795), If Duty Calls 
All hymn texts are taken from Cyber Hymnal
Examples from Daily Life
"Guess what, Dad?" Philip exclaimed as Mr. Gravesend stepped into the front hall.  "Robyn has worked so diligently on the potatoes that she has them all ready for the oven!  She can come with us to Aunt Elizabeth's."
"I'm glad to hear that," said Mr. Gravesend, picking up the bag of potatoes that Philip had ready at the door.  "I think someone must have been showing diligence at another job, too.  This bag of potatoes is very full!"
"We've been very diligent about learning diligence," Robyn laughed.  "And now Dad can take both of us to the Mathews' house."
Printable Image with Short Definition and Memory Verse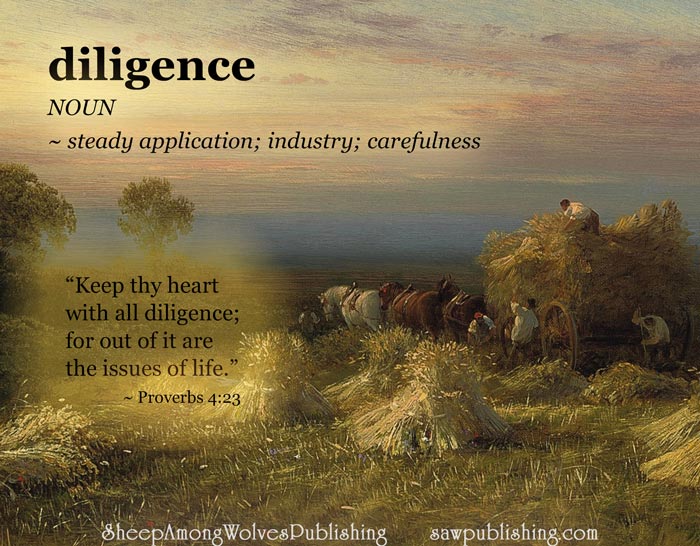 Bonus Activity
The final definition of diligence makes reference to a type of stage-coach which once existed in France.  Do you think that driving a stage-coach called a diligence would be a good reminder to be careful and responsible?
Write the word diligence on a small strip of paper.  Now choose one of your daily responsibilities that you want to be more diligent about.  Tape the piece of paper onto an item you use in performing your chosen task.  Make sure you ask one of your parents if it is alright to use tape on the item, before you stick the paper on!
Does your diligence label help you to be more diligent?
I am going to be using this technique with one of my own responsibilities, and I'll give you an update on how it's working at the bottom of next week's WOW lesson.
Sample Answer to Last Week's Bonus Activity 
Things we should depart from
Sin
Danger
Bad Habits
Carelessness
Selfishness
Temptation
Things we should not depart from
The Lord
A godly life
Kindness
Obedience
Hope
Perseverance
The Fruit of the Spirit
How To Sign Up
Each week's WOW lesson will be available on the Sheep Among Wolves blog on Friday morning.
If you would prefer to receive the lessons by email, you can sign up below to have each new lesson delivered on the Monday before it's posted.  This gives you time to print out the sheet, and have it ready for the next week, as well as making sure you don't miss any posts.  Email signup will include a high resolution copy of the image for those who wish to print it out in poster form.  Concerned that you have missed the start of our program?  Don't worry, all emails contain links to previous lessons.  No matter when you sign up, you will receive access to all lessons from the Word of the Week program.
This post may have been shared with the following linkups: The Art of Homemaking Mondays, What Joy is Mine, The Modest Mom, Homemaking Wednesdays, Wise Woman Linkup.
You might also like: