Word of the Week Lesson #6 – EXCEEDING
SAW Publishing's Word of the Week (WOW) program is a vocabulary supplement built around hymns and Bible verses.  Each lesson contains a Webster's 1828 Dictionary definition, Scripture reference, and examples that encourage students to use new vocabulary in daily life.  To find out more about the program, see our post entitled Boost Your Student's Vocabulary with our FREE Word of the Week. To receive the FREE Word of the Week lesson the Monday before it is posted, sign up for the WOW email below.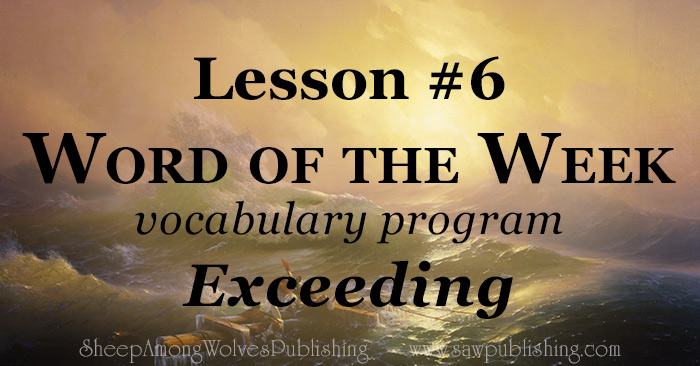 Word of the Week Lesson #6
**Click here for a downloadable PDF of the full lesson.
exceeding
Short Definition
Abridged from Webster's 1828 Dictionary
EXCEE'DING, participle present tense
going beyond; surpassing; excelling; outdoing
Webster's 1828 Full Definition
EXCEE'DING, participle present tense
1. Going beyond; surpassing; excelling; outdoing.
2. Great in extent, quantity or duration; very extensive.
Cities were built an exceeding space of time before the flood. [This sense is unusual.]
3. adverb In a very great degree; unusually; as exceeding rich.
The Genoese were exceeding powerful by sea.
I am thy shield, and thy exceeding great reward. Genesis 15:1.
All definitions are taken from the Webster's 1828 Dictionary from Archive.org Volume 1 and Volume 2 and can also be found on Webster's 1828 Dictionary online.
Memory Verses
"Blessed are ye, when men shall revile you, and persecute you, and shall say all manner of evil against you falsely, for my sake.  Rejoice, and be exceeding glad: for great is your reward in heaven: for so persecuted they the prophets which were before you." ~ Matthew 5:11–12 (KJV)
"After these things the word of the LORD came unto Abram in a vision, saying, Fear not, Abram: I am thy shield, and thy exceeding great reward." ~ Genesis 15:1 (KJV)
Poem or Hymn
"O Saviour, I have naught to plead,
In earth beneath or Heaven above,
But just in my own exceeding need,
And Thy exceeding love.
The need will soon be past and gone,
Exceeding great, but quickly o'er;
The love unbought is all Thine own,
And lasts forevermore."
– Jane Fox Crewdson (1808–1863), O Saviour, I Have Naught To Plead
All hymn texts are taken from Cyber Hymnal
 Examples From Daily Life
"Ouch!" exclaimed Robyn suddenly.  "I like making real moccasins, but this needle is exceeding sharp.  That sounds a little funny," she added after a moment's thought.  "I guess we'd say it's exceedingly sharp, in modern times."
"I think we should have enough room to cut out all three pairs," said Mr. Gravesend, measuring carefully.  "This is an exceedingly large piece of leather."
"Do you know, Dad?" Philip remarked, leaning back against the tent wall.  "This has been a very good day, exceeding my expectations despite the rain."
Printable Image with Short Definition and Memory Verse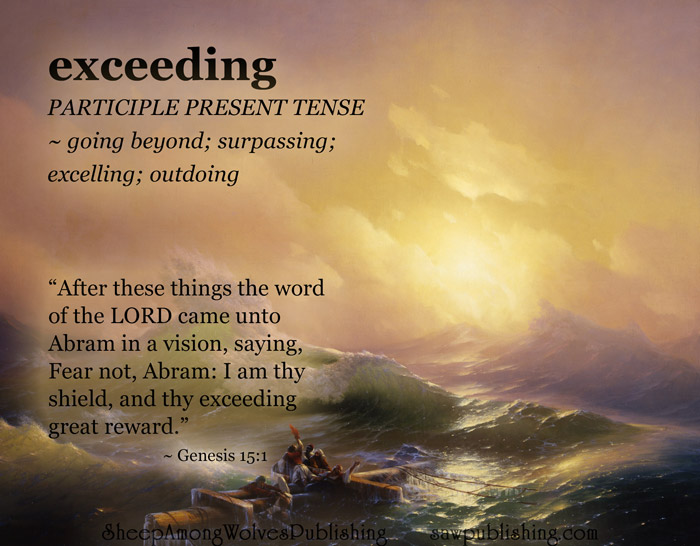 Bonus Activity
Some words are stronger than others. Exceptional is stronger than nice.  Painstaking is stronger than careful.  For each of the following words, choose a stronger word that means approximately the same thing.  Then re-read the Examples From Daily Life, substituting your new word for each of the old ones.
enough
said
large
very
Do the new words improve the story, or was it better with the old ones?
The answer will appear at the bottom of next week's WOW lesson.
Answer To Last Week's Bonus Activity
The previous WOW word hidden in last week's post was laden.
How To Sign Up
Each week's WOW lesson will be available on the Sheep Among Wolves blog on Friday morning.
If you would prefer to receive the lessons by email, you can sign up below to have each new lesson delivered on the Monday before it's posted.  This gives you time to print out the sheet, and have it ready for the next week, as well as making sure you don't miss any posts.  Email signup will include a high resolution copy of the image for those who wish to print it out in poster form.  Concerned that you have missed the start of our program?  Don't worry, all emails contain links to previous lessons.  No matter when you sign up, you will receive access to all lessons from the Word of the Week program.