Word of the Week Lesson #18 – PRESENCE
SAW Publishing's Word of the Week (WOW) program is a vocabulary supplement built around hymns and Bible verses.  Each lesson contains a Webster's 1828 Dictionary definition, Scripture reference, and examples that encourage students to use new vocabulary in daily life.  To find out more about the program, see our post entitled Boost Your Student's Vocabulary with our FREE Word of the Week. To receive the FREE Word of the Week lesson the Monday before it is posted, sign up for the WOW email below.
Word of the Week Lesson #18
**Click here for a downloadable PDF of the full lesson.
presence
Short Definition
Abridged from Webster's 1828 Dictionary
PRES'ENCE noun
the existence of a person or thing in a certain place; being near or before the face of another
Webster's 1828 Full Definition
PRES'ENCE noun 
[Fr. from L. prӕsentia; prӕ, before, and esse, to be.]
1. The existence of a person or thing in a certain place; opposed to absence. This event happened during the king's presence at the theater. In examining the patient, the presence of fever was not observed.  The presence of God is not limited to any place.
2. A being in company near or before the face of another. We were gratified with the presence of a person so much respected.
3. Approach face to face or nearness of a great personage.
Men that very presence fear,
Which once they knew authority did hear. Daniel.
4. State of being in view; sight. An accident happened in the presence of the court.
5. By way of distinction, state of being in view of a superior.
I know not by what pow'r I am made bold,
In such a presence here to plead my thoughts. Shakespeare.
6. A number assembled before a great person.
Odmar, of all this presence does contain,
Give her your wreath whom you esteem most fair. Dryden.
7. Port; mien; air; personal appearance; demeanor.
Virtue is best in a body that is comely, and that has rather dignity of presence, than beauty of aspect.  Bacon.
A graceful presence bespeaks acceptance.  Collier.
8. The apartment in which a prince shows himself to his court.
An't please your grace, the two great cardinals
Wait in the presence. Shakespeare.
9. The person of a superior. Milton.
Presence of mind, a calm, collected state of mind with its faculties at command; undisturbed state of the thoughts, which enables a person to speak or act without disorder or embarrassment in unexpected difficulties.
Errors, not to be recalled, do find
Their best redress from presence of the mind.  Waller.
All definitions are taken from the Webster's 1828 Dictionary from Archive.org Volume 1 and Volume 2 and can also be found on Webster's 1828 Dictionary online
Memory Verse
"Let us come before his presence with thanksgiving,
and make a joyful noise unto him with psalms." ~ Psalm 95:2 (KJV)
"Repent ye therefore, and be converted, that your sins
may be blotted out, when the times of refreshing shall
come from the presence of the Lord;" ~ Acts 3:19 (KJV)
All scripture references are taken from the King James Bible
Hymn
"Another year is dawning, dear Father, let it be
In working or in waiting, another year with Thee.
Another year of progress, another year of praise,
Another year of proving Thy presence all the days."
– Frances R. Havergal (1836–1879), Another Year Is Dawning 
All hymn texts are taken from Cyber Hymnal
Examples from Daily Life
"I think you'd better do your math in the living room today," Mrs. Gravesend told Philip.  "You might need my presence if you have difficulty with the decimals."
"Sure," Philip agreed, as he sharpened his pencil.  "But I usually enjoy my math lesson.  Hopefully I won't find the presence of decimals too confusing."
"And hopefully you won't find the presence of the little ones too distracting," Robyn added.  "I like doing school in the living room, but sometimes I spend most of my time watching them play!"
Printable Image With Short Definition and Memory Verse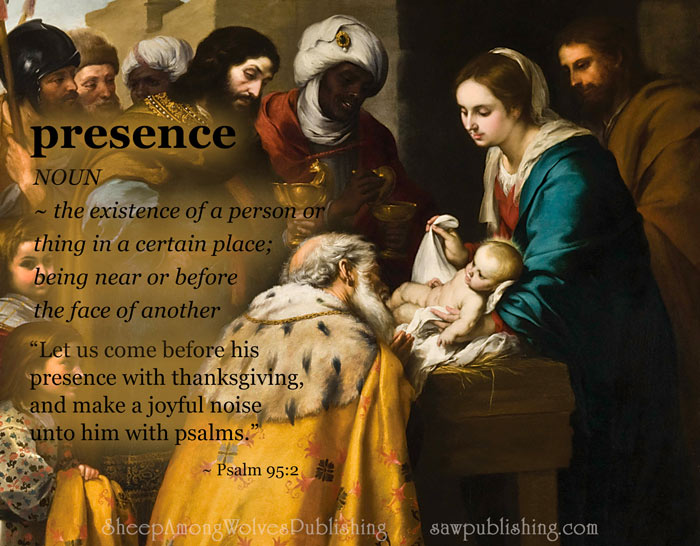 Bonus Activity
Today's hymn is about dedicating the New Year to God.  Frances Havergal ends this first verse with the wish to see "God's presence all the days."
She also names four other activities which she expects to have a presence in the coming year.  Write these four headings on a piece of paper, as show below:
The presence of work
The presence of waiting
The presence of progress
The presence of praise
Now jot down several activities from your own life which fall into each category.  Do you think most Christians have experiences in all four areas in the course of a year?
A sample answer will appear at the bottom of next week's WOW lesson.
How To Sign Up
Each week's WOW lesson will be available on the Sheep Among Wolves blog on Friday morning.
If you would prefer to receive the lessons by email, you can sign up below to have each new lesson delivered on the Monday before it's posted.  This gives you time to print out the sheet, and have it ready for the next week, as well as making sure you don't miss any posts.  Email signup will include a high resolution copy of the image for those who wish to print it out in poster form.  Concerned that you have missed the start of our program?  Don't worry, all emails contain links to previous lessons.  No matter when you sign up, you will receive access to all lessons from the Word of the Week program.
This post may have been shared with the following linkups: The Art of Homemaking Mondays, What Joy is Mine, The Modest Mom, Homemaking Wednesdays, Wise Woman Linkup.
You might also like: