Word of the Week Lesson #15 – EXALTED
SAW Publishing's Word of the Week (WOW) program is a vocabulary supplement built around hymns and Bible verses.  Each lesson contains a Webster's 1828 Dictionary definition, Scripture reference, and examples that encourage students to use new vocabulary in daily life.  To find out more about the program, see our post entitled Boost Your Student's Vocabulary with our FREE Word of the Week. To receive the FREE Word of the Week lesson the Monday before it is posted, sign up for the WOW email below.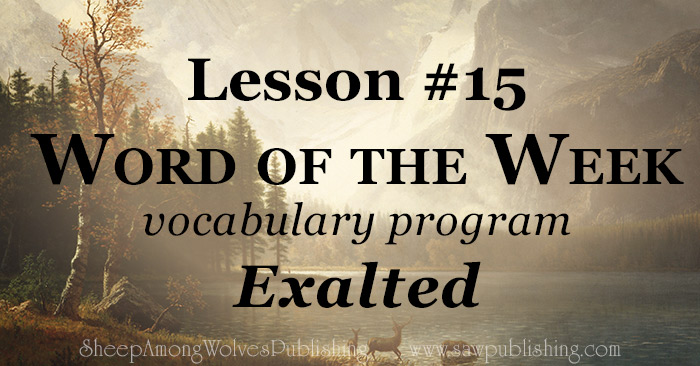 Word of the Week Lesson #15
**Click here for a downloadable PDF of the full lesson.
exalted
Short Definition
Abridged from Webster's 1828 Dictionary
EXALT'ED, participle passive
raised to a lofty height; elevated; honored
Webster's 1828 Full Definition
EXALT'ED, participle passive
Raised to a lofty height; elevated; honored with office or rank; extolled; magnified; refined; dignified; sublime.
Time never fails to bring every exalted reputation to a strict scrutiny.  Ames.
All definitions are taken from the Webster's 1828 Dictionary from Archive.org Volume 1 and Volume 2 and can also be found on Webster's 1828 Dictionary online
Memory Verse
"Every valley shall be exalted, and every mountain and hill shall be made low: and the crooked shall be made straight, and the rough places plain:" ~ Isaiah 40:4 (KJV)
All scripture references are taken from the King James Bible
Hymn
"Hallelujah, praise Jehovah,
From the heavens praise His name;
Praise Jehovah in the highest,
All His angels, praise proclaim.
All His hosts, together praise Him,
Sun and moon and stars on high;
Praise Him, O you heav'ns of heavens,
And you floods above the sky."
Refrain:
"Let them praises give Jehovah,
For His name alone is high,
And His glory is exalted,
And His glory is exalted,
And His glory is exalted
Far above the earth and sky."
– The Book of Psalms (1831), adapted by William J. Kirkpatrick
(1838-1921), Hallelujah, Praise Jehovah
All hymn texts are taken from Cyber Hymnal
Examples from Daily Life
"That crow is certainly brave," said Robyn, pointing to a bird perched on the top branch of a magnificent pine tree beside the road.  "I would be afraid of falling off such an exalted seat, on a windy day like this!"
"Do you know, I used to wish I could live in a pine tree," said Philip with a laugh.  "The Matthews boys had talked so much about building a tree house, that I exalted it into the most wonderful home a person could have."
"Speaking of the Matthews boys, I wonder if we are going to get to their house tonight, or not?" said Robyn.  "Oh, here is Dad coming back to the van.  Did you get it fixed?"
"It's certainly fixed," said Mr. Gravesend, "But it is the Lord, not me, who deserves to be exalted.  When I first looked at it, I thought we would have to call a tow-truck, but it looks like we've avoided that adventure.  We just might make it to Aunt Elizabeth's after all!"
Printable Image with Short Definition and Memory Verse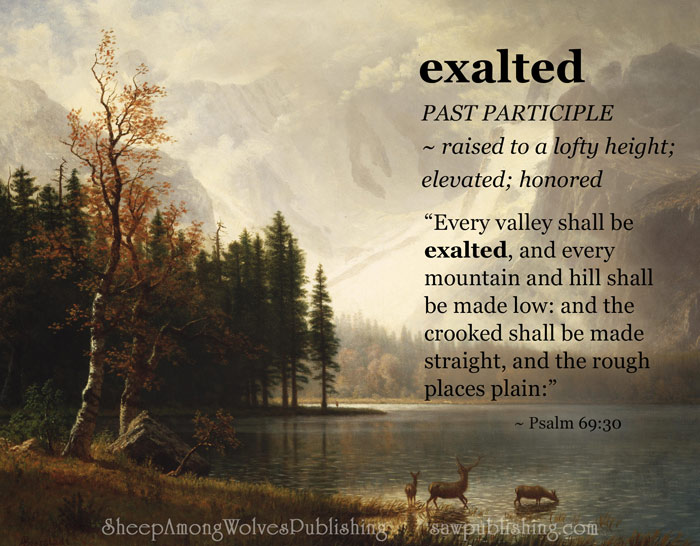 Bonus Activity
Last week we read Luke 1:46-55 in our bonus activity, looking for its connection to magnify.  Surprisingly, this passage is equally appropriate today.  Read Luke 1:46-55 again, and see if you can guess why.  (Hint: if you have trouble, try re-reading verse 52.)
The answer will appear at the bottom of next week's WOW lesson.
Sample Answer to Last Week's Bonus Activity 
The name Magnificat comes from verse 46, where Mary says, "My soul doth magnify the Lord," but it is also a good description of the entire passage, which praises and magnifies God.
How To Sign Up
Each week's WOW lesson will be available on the Sheep Among Wolves blog on Friday morning.
If you would prefer to receive the lessons by email, you can sign up below to have each new lesson delivered on the Monday before it's posted.  This gives you time to print out the sheet, and have it ready for the next week, as well as making sure you don't miss any posts.  Email signup will include a high resolution copy of the image for those who wish to print it out in poster form.  Concerned that you have missed the start of our program?  Don't worry, all emails contain links to previous lessons.  No matter when you sign up, you will receive access to all lessons from the Word of the Week program.
This post may have been shared with the following linkups: The Art of Homemaking Mondays, What Joy is Mine, The Modest Mom, Homemaking Wednesdays, Wise Woman Linkup.
You might also like: