Word of the Week Lesson #13 – ASSURANCE
SAW Publishing's Word of the Week (WOW) program is a vocabulary supplement built around hymns and Bible verses.  Each lesson contains a Webster's 1828 Dictionary definition, Scripture reference, and examples that encourage students to use new vocabulary in daily life.  To find out more about the program, see our post entitled Boost Your Student's Vocabulary with our FREE Word of the Week. To receive the FREE Word of the Week lesson the Monday before it is posted, sign up for the WOW email below.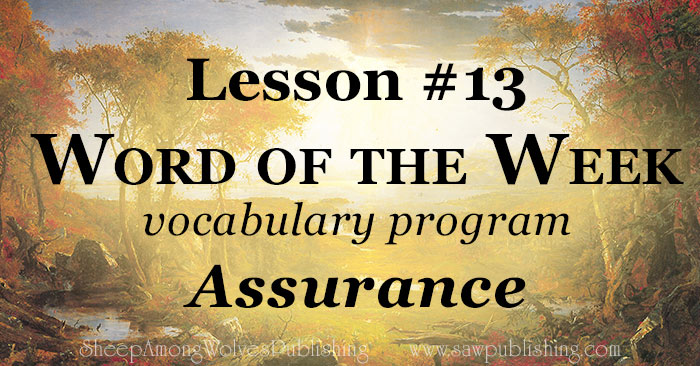 Word of the Week Lesson #13
**Click here for a downloadable PDF of the full lesson.
assurance
Short Definition
Abridged from Webster's 1828 Dictionary
ASSU'RANCE noun
firm persuasion; full confidence or trust
Webster's 1828 Full Definition
ASSU'RANCE noun
1. The act of assuring, or of making a declaration in terms that furnish ground of confidence; as, I trusted to his assurances; or the act of furnishing any ground of full confidence.
Whereof he hath given assurance to all men, in that he hath raised him from the dead.  Acts 17:31
2. Firm persuasion; full confidence or trust; freedom from doubt; certain expectation; the utmost certainty.
Let us draw near with a true heart, in full assurance of faith.  Hebrews 10:22
3. Firmness of mind; undoubting steadiness; intrepidity.
Brave men meet danger with assurance.  Knolles.
4. Excess of boldness; impudence; as, his assurance is intolerable.
5. Freedom from excessive modesty, timidity or bashfulness; laudable confidence.
Conversation with the world will give them knowledge and assurance.  Locke.
6. Insurance; a contract to make good a loss. [See Insurance.]
7. Any writing or legal evidence of the conveyance of property.  Blackstone.
8. Conviction.  Tillotson.
9. In theology, full confidence of one's interest in Christ, and of final salvation.
All definitions are taken from the Webster's 1828 Dictionary from Archive.org Volume 1 and Volume 2 and can also be found on Webster's 1828 Dictionary online
Memory Verse
"Let us draw near with a true heart in full assurance of faith, having our hearts sprinkled from an evil conscience, and our bodies washed with pure water."  ~ Hebrews 10:22 (KJV)
All scripture references are taken from the King James Bible
Hymn
"Blessed assurance, Jesus is mine!
O what a foretaste of glory divine!
Heir of salvation, purchase of God,
Born of His Spirit, washed in His blood."
Refrain:
"This is my story, this is my song,
Praising my Savior, all the day long;
This is my story, this is my song,
Praising my Savior, all the day long."
– Fanny Crosby (1820–1915), Blessed Assurance
All hymn texts are taken from Cyber Hymnal
Examples from Daily Life
"We're going to take a different route to Aunt Elizabeth's house today," said Mr. Gravesend as he backed out of the driveway.  "I was talking to a co-worker this afternoon, and he said Carmichael Dr. is under construction.  I told him I had every assurance that the new road would be easy to find."
"It would be pretty hard to get lost just driving to the Mathews'," Philip agreed.  "Isn't the van making a funny noise though?  I wish we had as much assurance about the engine as we do about the route."
"That is definitely not the way an engine is supposed to sound," said Mr. Gravesend, pulling over to the shoulder, and turning on his four-way flashers.  "Let me get out and take a look at it."
"I have one very distinct assurance," said Robyn, looking out at the early snowflakes which were now flying past on the November wind.  "Our trip to Aunt Elizabeth's is turning into more of an adventure than we bargained for!"
Printable Image With Short Definition and Memory Verse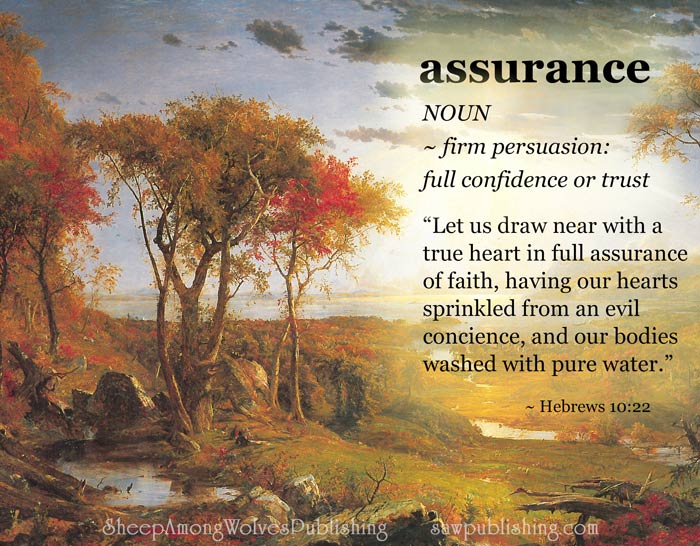 Bonus Activity
Today's Webster's 1828 definition contains a host of rich vocabulary words.  Pick out one term which is unfamiliar to you.  Look this word up in a dictionary, and study its meaning.  Does your research give you a new perspective on assurance?
A sample answer will appear at the bottom of next week's WOW lesson.
Sample Answer to Last Week's Bonus Activity 
For our diligence challenge, I decided that I wanted to be more responsible about taking the laundry down to the washing machine on Monday mornings.  My difficulty with this task was the fact that it wasn't a daily responsibility, so I couldn't make it a part of my normal routine.
This was definitely an area I could use diligence in.  But how was I going to attach my diligence label to something I saw on Monday mornings?  I couldn't put it on the clothes basket, because the whole problem was that I kept forgetting that the clothes basket needed any attention.  But if I put the label on something I saw every day, the chances were I'd stop noticing it before Monday rolled around.
At last I decided to put the label on the box where I keep my dress shoes.  Instead of putting my shoes away when I came home from church, I would leave the box out until after I took the laundry downstairs on Monday.
This has been my first week of the new regime, and yes, I did remember to get the laundry down on time!  (Probably a combination of the diligence label and the fact that I had promised to give a report on the project.)
I hope you have all found this a fun way to boost your diligence, as well as your vocabulary!
How To Sign Up
Each week's WOW lesson will be available on the Sheep Among Wolves blog on Friday morning.
If you would prefer to receive the lessons by email, you can sign up below to have each new lesson delivered on the Monday before it's posted.  This gives you time to print out the sheet, and have it ready for the next week, as well as making sure you don't miss any posts.  Email signup will include a high resolution copy of the image for those who wish to print it out in poster form.  Concerned that you have missed the start of our program?  Don't worry, all emails contain links to previous lessons.  No matter when you sign up, you will receive access to all lessons from the Word of the Week program.
This post may have been shared with the following linkups: The Art of Homemaking Mondays, What Joy is Mine, The Modest Mom, Homemaking Wednesdays, Wise Woman Linkup.
You might also like: