I have always had a garden of some sort.  I can remember when I was growing up my dad always planted our garden.  We kids were enlisted to weed.  And weed.  And weed.  I never remember planting.  Dad always did that part.  I wish now that I had paid closer attention to his planting.
There are questions now I would like to ask him.  How did he get that perfect leaf lettuce every year?  You know the kind—frilly, bright green and crisp.  Perfect on a homemade burger with a sun ripened tomato and lots of mayo.  I don't remember his lettuce bolting in the heat.  And his carrots.  How did he get those delicate little seeds to germinate?  Again, I remember storing the carrots for the winter in our basement—loads and loads of carrots.  But nothing about germinating them.
January and February are always a time of restrained excitement for me as I plan my garden and order my seeds.  I wait impatiently for March when I can start sowing indoors.  There have been years when I ordered my seeds too late to get the selection I wanted.  There have been years when I planted with no plan whatsoever and ran out of room for that last packet of seeds.  This year I have my seeds ordered, my garden plan almost finished, and I even have a garden calendar to remind me when to plant what.
Now, I have to confess, I have had the help of my dear husband in this endeavor.  I always observe that God pairs up husbands and wives with complementary qualities.  This maxim holds true in our household.  We have been enjoying the cold winter months at our house this year.  Every Saturday we take some time to plan, research, schedule, and plot our garden.  We chose seeds, ordered them, created a garden plan on graph paper, and mapped out each vegetable on a planning calendar.
This year we decided to try to grow leeks.  We love leeks.  A nice steaming bowl of chicken soup with leeks, rice and green beans is perfect on a snowy day.  We would eat them in many other dishes if they weren't so expensive.  So we decided to take the plunge.  After some research, we realized that leeks take a very long time to grow.  In our zone five garden, we don't have nearly enough time for leeks to germinate and mature before the growing season is over.  That means that we need to start them indoors in flats well before we usually start any seeds.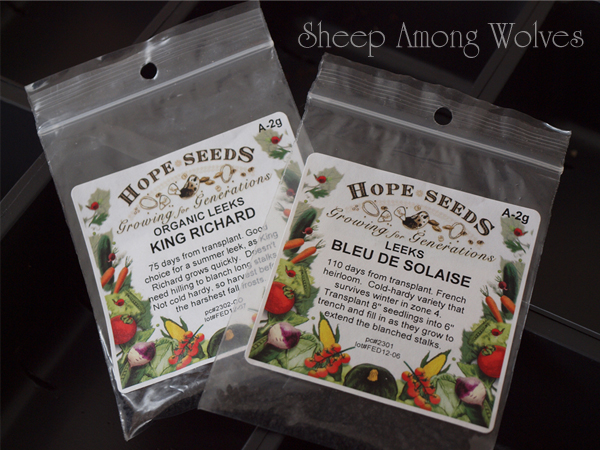 On February 7, we sowed two flats of leeks.  I had a couple of packets of leek seed that I had bought a few years ago and never used.  We planted one flat of each kind in the hopes that some would germinate and we might get a couple of rows of leeks.  The first flat of Bleu de Solaise were up in five days.  Looks like about 100 percent germination to me.  The King Richard leeks in the second flat were a little slower to start; showing some tiny green specks at eight days.  They did not all germinate at once and three weeks later there are still new shoots popping up.  Hats off to Hope Seeds where we purchased this seed.
The leeks will be planted out sometime between mid-April and mid-May, two to six weeks before our last winter frost.  King Richard is an early leek and will be ready before the end of summer, but we will use the Bleu de Solaise through the autumn and early winter as it holds up well even in heavy frosts.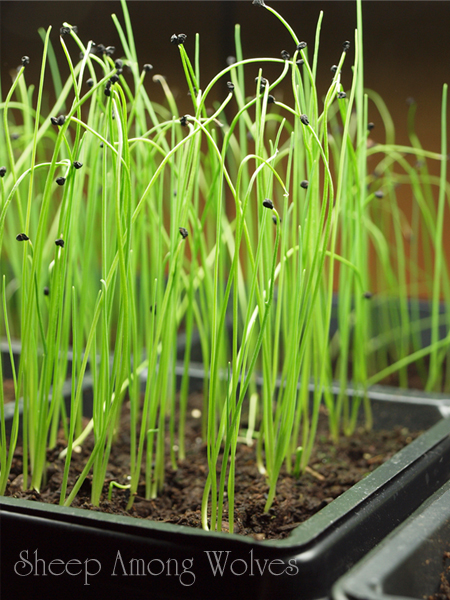 Now I had better get searching for recipes for next winter; potato leek soup, French leek pie, Irish colcannon.  My mouth is beginning to water. I'd love to hear your favorite leek recipes.
Gardening Info For Leeks
Planting: Start indoors 8-10 weeks before planting out.  Transplant into trenches, or holes made by a dibbler or shovel handle 2-6 weeks before last frost, when the soil temperature has reached 45° F.
Spacing: Space closely together in trays or cells.  Transplant at 6″ between plants and 12″ between rows.
Site Conditions: Leeks prefer full sun and fertile, well-drained soil.
Harvest: Harvest when stems reach 1″.