Add A Special Charm to Your Book Gifts
I always enjoy finding writing in the front covers of books.  Whether the volume is old or new, whether the note is addressed to myself, to a family member, or to someone I've never met, an inscription always adds a special charm to the opening page.
When I was given books as a small child, my mother often wrote the name of the giver and the date, or occasion on which it was given, into the front of the book.  I still enjoy finding those notes and remembering (or in the case of the very early ones, not remembering,) who gave them to me, and when.
As I grew older, I occasionally took this responsibility on myself.  As I write this, I have fetched a volume in which is written, in somewhat uneven letters which slope slightly downwards from left to right, the information that it was given "To Courtenay,  From Gran and Grampa," as well as the date.  I am quite sure I had permission to do it, and I remember being careful because it was such a nice new book, and I didn't want to spoil it!
Other inscriptions are written by the giver.  On the title page of a book of children's poetry which I've had for as long as I can remember, is my great aunt's handwriting: "on your first Birthday… with love," and both my great aunt and great uncle's names.  I also love finding books which belonged to my parents, or grandparents, and have their names written in the front.  It's so much fun to think of them receiving and enjoying the same book I am reading, years before I was born.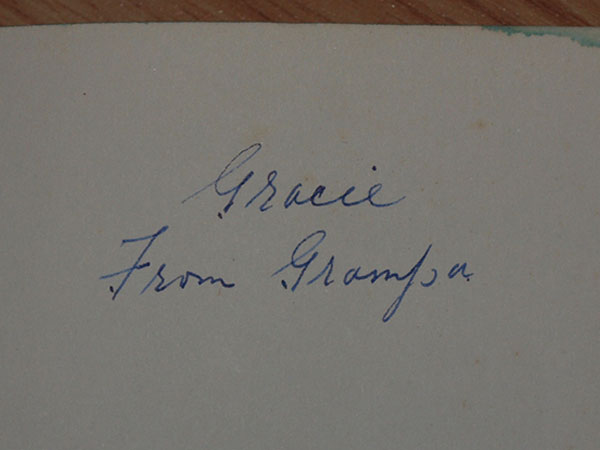 And then there is the treasure of inscriptions in second-hand books—those little notes which provide the only link between us and the unknown person who owned the book before us.  I like to read for instance, that an old, bluish-grey volume which we found at a school yard sale, was originally "First Prize Presented to Percy Kaemlein by Bethel Tabernacle S.S. for Regular Attendance Year 1927."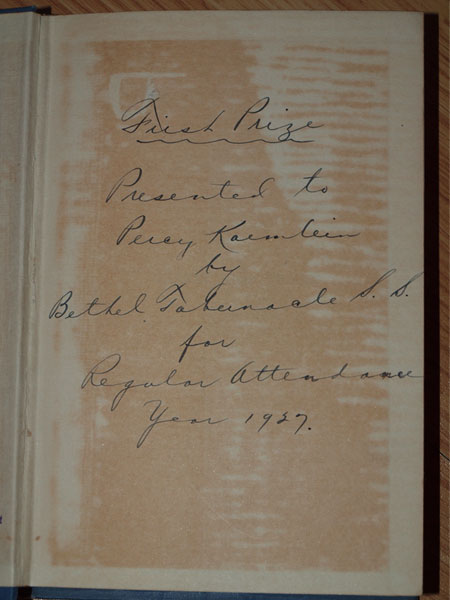 Doesn't it give us a little glimpse into his life?  We know, at all events, that he was in Sunday School at Bethel Tabernacle in 1927.  And we know that he owned the book we have just opened—that presumably he read it, quite possibly that he read the little flyer from the publisher which is tucked into the first page.  Who knows?  He may have even used it for a bookmark!  I once found an ad for a mechanic's shop inside a second hand book, and put it to the same use.  I decided not to apply to see whether the promotional offer on the flyer was still valid, though!  I've come across newspaper clippings, and pressed flowers between the leaves of old books as well.
And then there is the stamp in the front of a 1953 botany textbook in which the Birmingham Education Committee requests "If found, please return to above school."  Hopefully, King Edward's Grammar School in Camp Hill doesn't want it any more.  At all events, the original Pat Smith is presumably finished with it, and it appears it wasn't issued to any successive scholars.
A book inscription doesn't need to be anything fancy.  Usually, they are just a name, with perhaps a date, or a little note as well.  But they add a priceless value to the book they adorn.  So next time you are giving, or receiving a book, why not write a few words inside the front cover?  It will give a special charm every time you open the first page.